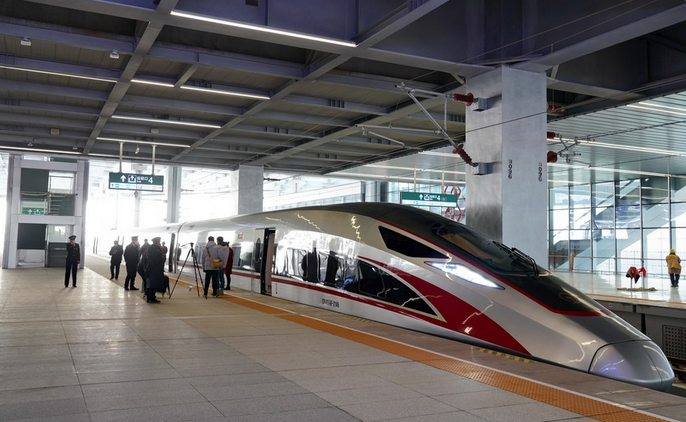 A trial bullet train stops at the Xiongan Railway Station, which is along the railway linking Beijing and Xiongan New Area, in Xiongan, north China's Hebei Province, Dec. 24, 2020. (Xinhua/Jin Haoyuan)
BEIJING, Jan. 11 (Xinhua) -- China's investment by private sector is expected to recover in 2021 and reach the scale of more than 30 trillion yuan, reported Securities Daily on last Sunday quoting Tang Chuan, an expert with the Ministry of Finance.
As China continues efforts to stabilize investment and optimize business environment this year, it will further reduce taxes and fees imposed on private enterprises and provide credit support for them, said Tang.
Meanwhile, the country will further protect private enterprises' right to fair competition and legitimate interests by legal means and administrative management in the field of bidding, and incentivize investment by private sector by giving certain preferential policy treatment in the use of public-private partnership (PPP) mode, asset backed securitization (ABS), real estate investment trust (REITs) and other tools, according to Tang.
Regarding key areas of investment, Xu Guangrui, executive director with Guoxin Weilai Institute of Science and Technology said that private capital can flow into strategic emerging industries such as next generation information technology, biotechnology, new energy, new materials, high-end equipment, new energy vehicles, environmental protection, aerospace and marine equipment. Forward-looking investment can be made in artificial intelligence, quantum information, integrated circuit, life and health, brain science, biological breeding, and deep sea related sectors.
Social capital can also take full advantage of opportunities brought by the development of digital China by participating in the construction of new infrastructure and new urbanization, transportation, water conservancy and other major projects, said Xu.
In the first 11 months of 2020, China's fixed-asset investment by private sector reached 27.81 trillion yuan, up 0.2 percent year on year, the first growth registered in the year, according to data released by the National Bureau of Statistics in December of 2020.
Private investment is likely to maintain positive growth in the whole year of 2020, with the scale reaching 29 trillion yuan, according to Xu. (Edited by Su Dan with Xinhua Silk Road, sudan@xinhua.org)