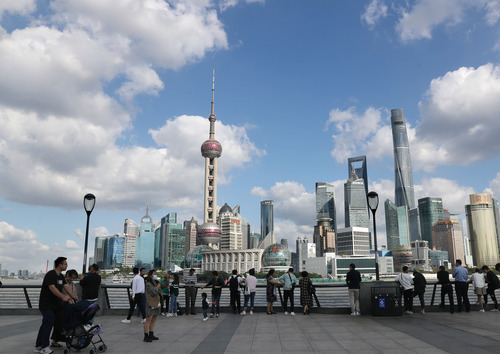 BEIJING, Jan. 8 (Xinhua) -- As China's financial sector accelerates the opening-up, international investors and market participants will expand the Chinese market in a more proactive way, presenting foreign institutions with more business opportunities.
According to Zhu Tong, general manager of Deutsche Bank in China and president of Deutsche Bank (China) Co., China's real gross domestic product (GDP) is expected to grow 9.5 percent in 2021. Boosted by economic fundamentals and consumer market recovery, foreign direct investment will continue to flow into China. More global investors will increase their holdings of RMB-denominated assets due to their high interest rates.
"The Chinese market boasts a bright prospect. It is one of the most important strategic markets for the development of Deutsche Bank," said Zhu, adding that Deutsche Bank will be presented with many opportunities as China is accelerating the opening-up.
Multinational companies will continue to increase investment and financing activities in China. Foreign institutional investors will increase their presence in China. There will be more two-way investment and financing opportunities in the future thanks to the trade connectivity between Asia-Pacific economies and China's establishment of new development pattern, said Zhu.
"The development potential of insurance industry is mainly concentrated in Asia, especially in Asia's China. The 2020 semi-annual report showed that China has contributed the most to the new business value of AIA Group," said Zhang Xiaoyu, executive director and general manager of AIA Life Insurance Co. (Edited by Zhang Yuan with Xinhua Silk Road, zhangyuan11@xinhua.org)