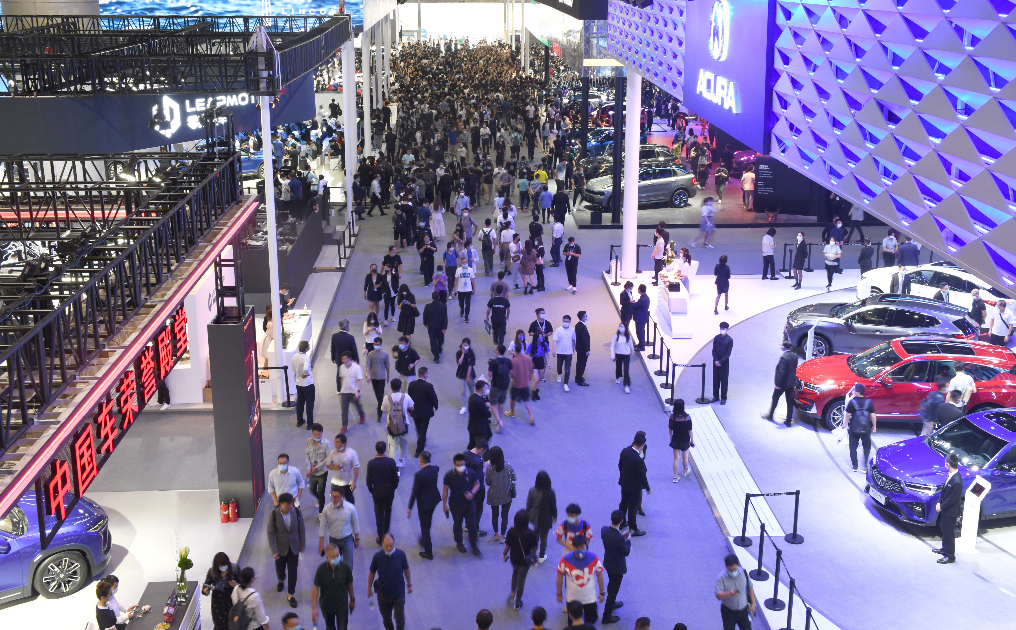 People visit the 18th Guangzhou International Automobile Exhibition at the China Import and Export Fair Complex in Guangzhou, south China's Guangdong Province, Nov. 29, 2020. The exhibition concluded here on Sunday. (Xinhua/Lu Hanxin)
BEIJING, Jan. 8 (Xinhua) -- Despite fallout of the COVID-19 in 2020, Chinese carmakers withstood the test and bucked decline trend with exports rebounding in the second half of 2020, showing strong resilience of the domestic automobile industry and the overseas recognition of the domestic car brands, the Economic Information Daily reported on Friday.
The latest data provided by China Association of Automobile Manufactures (CAAM) showed that the domestic auto companies exported 122,000 vehicles in November 2020, an increase of 46.7 percent year-on-year, hitting a record high. This brought China's total vehilce exports to 851,000 units in the first 11 months of 2020, a year-on-year decrease of 7.3 percent, but the decline narrowed 5.4 percentage points from the decrease in the January-October period.
The figures, on the one hand, show the recovery in the overseas demand for the vehicles. On the other hand, the domestic auto makers are also paying more attention to brand building and competitiveness, said Xu Haidong, deputy chief engineer of the CAAM.
It is worth noting that in 2020, many Chinese auto companies began to make a presence at the European market and other developed markets with new energy vehicles (NEVs), and multi-purpose vehicles.
Of the new models launched by the domestic carmakers in 2020, about 15 percent of the models were equipped with conditional autonomous driving functions. Companies including Geely, Changan, SAIC, and Great Wall are seizing opportunities of electrification, networking, and intelligence, and continuing to innovate in technology, quality, and user operations.
From January to June 2020 alone, China's NEV exports came to 14,000 units, an increase of 3.4 times, of which exports to developed markets increased by 4 times. The average unit price was more than 40,000 U.S. dollars, three times the average export price of traditional cars, according to Gao Yang, an official of the Ministry of Commerce (MOC) at the 2020 China Auto Forum held in east China's Shanghai municipality.
Gao added that developed countries have become the main market for the country's NEV exports.
Chinese carmaker Aiways Automobiles exported 500 European-version AIWAYS U5 to the EU in the first half of 2020.
"The company is planning to enter some countries that welcome electric vehicles in the second half of 2021," said William Li, founder, chairman and CEO of NIO, a Chinese leading electric vehicle (EV) manufacturer.
SAIC Motor also announced the 2025 target for the European market, stating that by 2025, its own brands will strive for market scale of more than 100,000 vehicles in Europe.
In addition to the domestic auto companies' ambitious moves, the improved economic and trade relations between China and other regions will also boost their exports and global presence.
The signing of the Regional Comprehensive Economic Partnership (RCEP) and the conclusion of negotiations for China-EU investment treaty will definitely give a major boost to the development of economic globalization and regional economic integration, and benefit China and related countries on a higher level of mutual integration and linkage development, according to industry insiders. (Edited by Hu Pingchao with Xinhua Silk Road, hupingchao@xinhua.org)