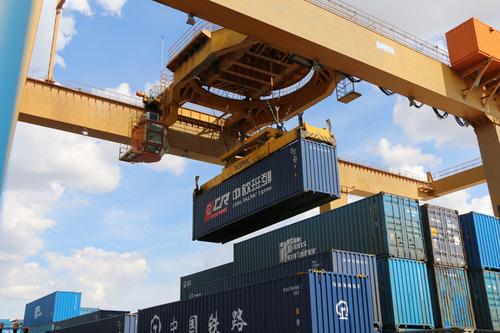 Photo: A crane loads containers at the ManzhouliRailway Station in Manzhouli, north China's Inner Mongolia Autonomous Region, July 1, 2020.
HOHHOT, Jan. 7 (Xinhua) -- Manzhouli, the largest land port located in northeast China, saw the number of inbound and outbound China-Europe freight trains via the land port reach 3,548 in 2020, up 35.1 percent year on year, according to China Railway Harbin Group Co., Ltd.
Overall 324,310 twenty-foot equivalent unit (TEU) containers of goods have been transported through the cargo trains via the port last year, up 37.6 percent year on year.
In breakdown, some 165,224 TEUs of goods were carried by 1,790 outbound trains, while over 159,086 TEUs were carried by 1,758 inbound trains last year.
Major commodities transported through the port mainly involved daily necessities, electrical products, industrial machinery, metals, agricultural and sideline products, plates, auto parts, etc.
Authorities in Manzhouli port have facilitated customs clearance to increase efficiency and help enterprises reduce logistics and transportation costs. At present, the land port provides 24-hour business processing services for inbound and outbound freight trains.
The China-Europe rail routes have become an important transport channel for stabilizing global trade and recovering production amid the COVID-19 pandemic.
(Edited by Yang Yifan with Xinhua Silk Road, yangyifan@xinhua.org)