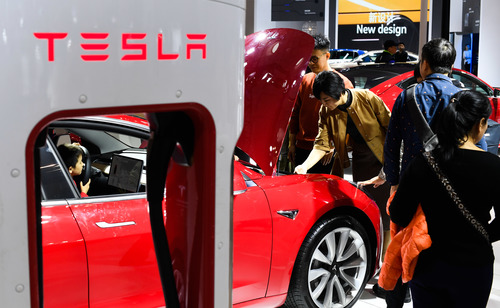 Photo: Visitors view a car from U.S. electric car maker Tesla at Haikou New Energy Vehicle Exhibition in Haikou, south China's Hainan Province, Jan. 10, 2019. (Xinhua/Yang Guanyu)
BEIJING, Jan. 7 (Xinhua) -- The sector of new energy vehicles (NEVs) is gaining momentum in south China's island province of Hainan.
The province has boasted more than 48,000 NEVs in use as of October 2020, accounting for 3.3 percent of the total number of cars in the province, 1.6 percentage points higher than the national average, local-authority figures show.
The NEV industry gets boosted in the island province thanks to the joint efforts of government departments, infrastructure construction and automakers.
-- Supportive policies
The island province, also a newly-established free trade port (FTP) in China, has introduced a slew of supportive policies since 2020 to promote green mobility.
Green development has been highlighted in its 14th Five-Year Plan (2021-2025) unveiled last December. The province pledges to promote the use of NEVs, build more charging facilities and put a cap on energy consumption and carbon emission during the period.
With the FTP's favorable policies, Hainan aims to gather global NEV manufacturers and local carmakers to form a high-tech industrial cluster and a green mobility service network covering NEVs and supporting facilities.
In September last year, Shen Xiaoming, party chief of the province, said at the 2020 World New Energy Vehicle Congress that the province will focus on the development of the entire industrial chain of new energy vehicles, and build itself into high-end manufacturing base for new energy vehicles and key components, new energy vehicle R&D and design transformation center, and new energy and intelligent network integration development and experience center.
-- Improved infrastructure
The NEV industry cannot thrive without basic infrastructures, like charging facilities.
Hainan has been a pioneer in the development of battery charging facilities. By the end of September 2020, the province has built 17,379 battery charging piles, with an average of 2.5 NEVs sharing a charging pile, far better than the national figure of six to one.
In addition to the construction of the charging piles, the province is also promoting the program of piloting the battery swap mode. The battery swap mode allows a NEV to be fully charged within only three minutes by getting a new fully charged battery.
The current battery swap station network in Haikou, the capital of Hainan, were jointly built by EDF Group, CF Energy Corp., BAIC BluePark New Energy Technology Co., Ltd. and another company affiliated with BAIC, with an investment of 5 million yuan (about 770,000 U.S. dollars). Equipped with 20 batteries, it could enable more than 40 swaps every day.
Fang Bo, vice general manager of the joint venture of EDF Group and CF Energy Corp., said that the company will build battery swap stations in Sanya, another city in Hainan, in 2021.
Other enterprises, from home and abroad, are joining the force.
China National Nuclear Corporation (CNNC) inked an agreement with the province in last October to facilitate power projects for the charging piles and promote the development of clean energy vehicles.
The NEV giant Telsa is also planning on charging facilities in the province, aiming to cover all prefecture-level cities in the future.
-- Fierce competition
Chinese and foreign NEV automakers are stepping up efforts in the province amid fierce competition.
Haima, a local brand, brought its year-on-year sales growth to a positive territory in November 2020, accounting for 5 percent of the total sales of passenger cars in that month in Hainan.
The global giant Tesla established a subsidiary focusing on sales and service in Haikou last year and launched an exhibition and experience center in the city recently. With an interior area of 2,000 square meters and an exterior area of 1,800 square meters, the center will contribute to the brand's online and offline marketing strategy.
Others automakers, such as BAIC BJEV, BMW and WM Motor, are also trying to increase their presence in Hainan.
Hainan is well-positioned to boost NEV development. Apart from tax cut, shipping through sea route will largely reduce the shipping cost of finished cars, said Mei Songlin, an analyst in the auto industry.
(Edited by Li Shimeng with Xinhua Silk Road, lishimeng@xinhua.org)