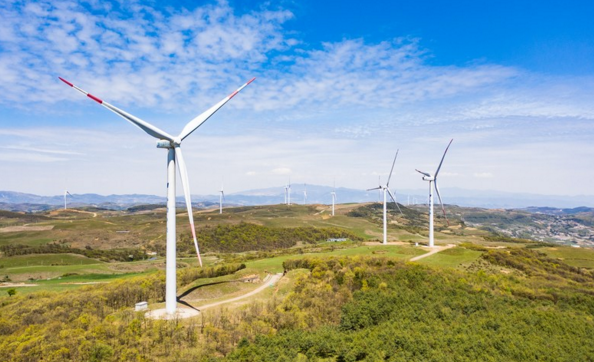 Aerial photo taken on April 27, 2020 shows wind power installations in Weining County, southwest China's Guizhou Province. (Xinhua/Tao Liang)
BEIJING, Jan. 4 (Xinhua) -- Chinese authorities have recently announced their plans to accelerate the adjustment and optimization of industrial structure and energy structure, and vigorously develop new energy in an effort to achieve the carbon neutrality target as soon as possible, the Xinhua-run Shanghai Securities News reported on Monday.
The country previously announced that it will strive to peak carbon dioxide emissions by 2030 and achieve carbon neutrality by 2060.
National Energy Administration said at a recent work conference that efforts will be made to improve the level of energy supply, accelerate the development of wind power and photovoltaics, steadily promote the construction of hydropower and nuclear power, and further advance the clean and efficient utilization of coal.
It is learned that to reduce carbon emissions and increase the proportion of non-fossil energy consumption, the most direct way is to strengthen the carbon reduction on the power production side.
Data showed that in 2019, the non-fossil energy in China accounted for 15.3 percent of primary energy consumption, meaning that it met the goal set for the 13th Five-Year Plan period (2016-2020) one year ahead of schedule.
The country plans to enhance the proportion of the non-fossil energy in the primary energy consumption to about 25 percent by 2030.
The Ministry of Industry and Information Technology (MIIT) has also made it clear to promote low-carbon in the industrial production and implement green manufacturing projects, resolutely reduce crude steel output, and speed up the development of advanced manufacturing.
The National Development and Reform Commission (NDRC), China's top economic planner, has also pledged to continuously promote the ecology protection experimental zones at the national level, strengthen the ecological protection and governance of large rivers and important lakes and wetlands, and promote the entire chain of plastic pollution control.
In addition, the Ministry of Ecology and Environment will unveil a circular soon to coordinate and strengthen the work related to the climate change and ecological environment protection.
An action plan for the country to peak carbon dioxide emissions is being formulated, which will propose policies and actions for the localities, guide the key enterprises to carry out total carbon dioxide emission management, and strengthen the disclosure of carbon emission information of key enterprises, according to Chai Qimin, an official of the Ministry of Ecology and Environment.
At present, Beijing, Tianjin, Shanxi, Shandong, Hainan, Chongqing and other regions in China have set clear targets for peak carbon emissions, showing the county's effort to promote the environment protection. (Edited by Hu Pingchao with Xinhua Silk Road, hupingchao@xinhua.org)