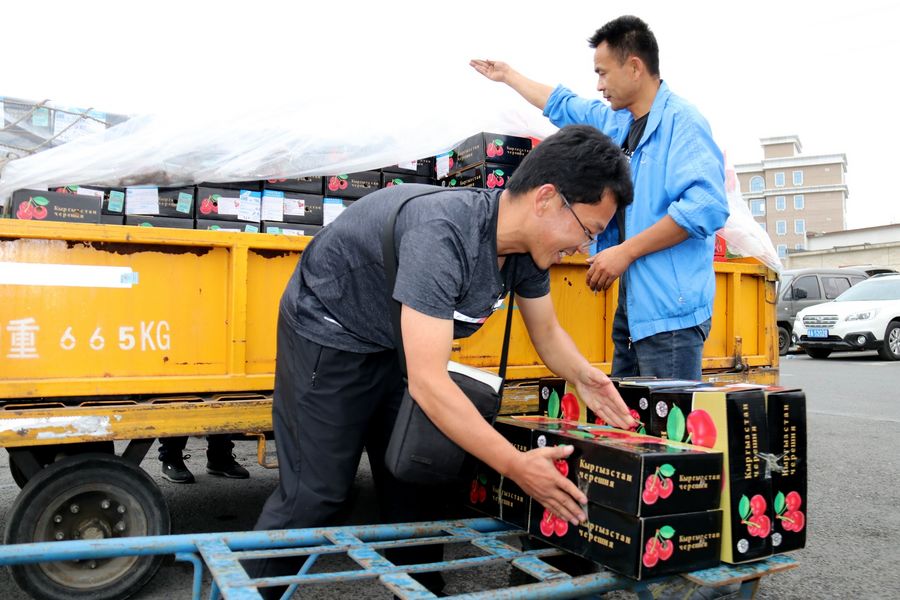 People unload import cherries at the customs office of the Diwopu International Airport in Urumqi, northwest China's Xinjiang Uygur Autonomous Region, June 12, 2019. (Xinhua/Wu Yue)
BEIJING, Dec. 21 (Xinhua) -- China customs will vigorously support high-level opening-up and optimize related supervision services to push up high-quality foreign trade development, reported Shanghai Securities News Monday quoting the country's customs authority.
According to a meeting held by the General Administration of Customs of China on December 19, in order to achieve the goal, efforts should be made to continue in-depth reform and innovation and enhance innovative application of new technologies and devices to improve the integration of customs clearance.
In order to enhance international cooperation under the Belt and Road Initiative (BRI), Chinese customs should also step up preparations for the implementation of the Regional Comprehensive Economic Partnership (RCEP), and strongly support the development of the China-Europe freight trains.
Other efforts include optimizing the environment of doing business at ports, fostering the development of new businesses and modes like cross-border e-commerce, supporting the imports of advanced technologies, key equipment and components, and improving the construction of comprehensive bonded zones, pilot free trade zones and the Hainan free trade port.
Improving the customs supervision capability and related supervisory systems were also highlighted at the meeting.
(Edited by Gu Shanshan with Xinhua Silk Road,gushanshan.1987@163.com)