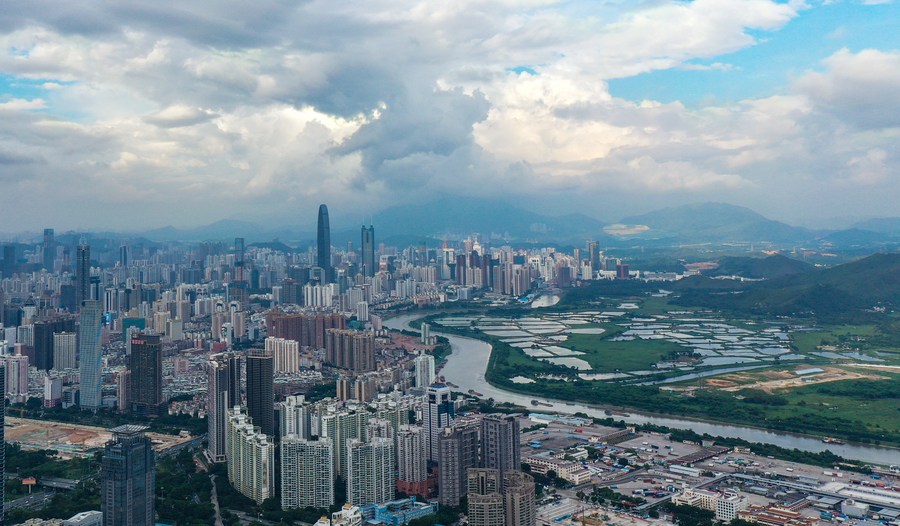 Aerial photo taken on Sept. 14, 2020 shows the view of downtown areas in Shenzhen, south China's Guangdong Province. (Xinhua/Mao Siqian)
BEIJING, Dec. 11 (Xinhua) -- Foreign institutions are optimistic about China's economic growth in the future, believing that China will continue to lead the global economic growth in 2021, reported Shanghai Securities News Friday.
China's economy stands out in the global economic development pattern amid the COVID-19 pandemic, with the manufacturing PMI (Purchasing Managers' Index) above the tipping point for nine consecutive months, the cumulative profits of industrial enterprises resuming positive growth, and the year-on-year growth of the actual use of foreign investment registering 6.4 percent, etc.
In the view of global asset manager Schroders, the Chinese economy is showing new look and vitality, and the consumption potential and development pattern lying in its new economy and new forms of business are highly concerned.
"From the perspective of domestic and foreign circulations, we believe that the characteristics of China's economy this year can be summed up in two 'exceeded expectations', namely exceeded foreign trade expectations and exceeded foreign investment expectations," said Kang Yong, chief economist at KPMG China.
The logic behind this is that China took the lead in bringing the pandemic under control and resuming work and production, and meanwhile, other countries severely hit by the pandemic have enhanced reliance on China's production, investment and exports, added Kang.
China has effectively contained the pandemic and its economic growth is far better than most countries around the world, said Wang Yi, a chief economist with Credit Suisse.
Wang noted that in 2021, China's economy is expected to achieve super-fast growth and once again lead the global economic recovery.
According to the forecast of the Organization for Economic Co-operation and Development (OECD), China's economic growth will reach 8 percent in 2021, still the fastest among major economies in the world, and driving by the strong economic recovery of China, the global economy will return to the pre-pandemic level by the end of 2021.
Geoffrey Okamoto, the First Deputy Managing Director of International Monetary Fund (IMF), believed that China's economy will grow at 8.2 percent in 2021.
Localization of technology, self development of science and technology, industrial upgrading, green economy and opening-up expansion will be the focus of China's economic development in the next five years, noted Lu Jie, a general manager and research director of Robeco, an asset manager of the Netherlands.
As China is paying more attention to green economy and will realize carbon neutrality in 2060, Lu expected that China's energy mix will experience dramatic change, with new energy like photovoltaic and wind power boasting huge room for growth.
Wang Yi predicted that during the 14th Five-Year Plan period, China will increase investment in new infrastructure, improve technological innovation and carry out labor market reform to promote labor mobility and improve the quality education level of labor force.
"China's overall economic development will usher in a new normal of high-quality growth, and the inclusive trend of endogenous and diversified development will be very obvious," said Zhou Hao, senior emerging markets economist at Commerzbank, a German lender.
He noted that online office, e-commerce, 5G and other internet economy-related new consumption demands are gradually growing in China, and the new energy vehicle market in China is expected to maintain vitality as it performs well.
"The Chinese economy will pay more attention to the quality of growth. With aging population and rising labor costs, China needs to further lift the urbanization rate and let more people settle in cities to promote further upgrading of consumption." said Lu Jie.
(Editedby Gu Shanshan with Xinhua Silk Road, gushanshan.1987@163.com)