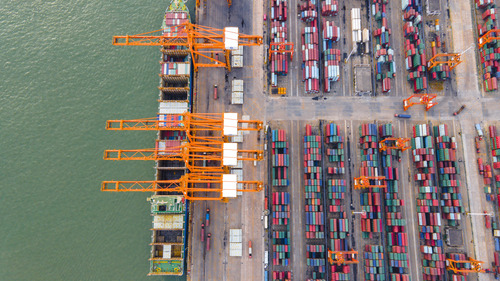 Aerial photo taken on July 30, 2020 shows a view of the Qinzhou terminal of the Beibu Gulf Port in south China's Guangxi Zhuang Autonomous Region. (Photo by Xu Zhiyan/Xinhua)
NANNING, Dec. 1 (Xinhua) -- Beibu Gulf Port in southern China's Guangxi Zhuang Autonomous Region started construction on the first phase of a global cold chain industrial park project, reported Guangxi Daily Monday.
The whole project covers a total area of 1,800 mu (about 1.2 square kilometers), of which phase one is planned to cover an area of 600 mu (about 0.4 square kilometers) with a total investment of about 1.093 billion yuan.
Relying on the decent natural and infrastructure advantages in Beibu Gulf, the project is committed to forming a fresh cold chain industrial park integrating processing, distribution, cold storage and trading, to promote the fresh trade cooperation between China-ASEAN countries.
The processing capacity of fresh food in phase one project is expected to reach 200,000 tonnes per year after its completion, while a total of 600,000 tonnes of capacity will be achieved of the whole projects.
Meanwhile, the annual turnover of the industrial park is expected to exceed 20 billion yuan after its completion. After the completion of the whole project, more than 3,000 merchants and enterprises will be settled, and over 15,000 jobs will be created, which will effectively fill the shortage of cold chain logistics infrastructure in the Beibu Gulf area.
(Edited by Jiang Feifan with Xinhua Silk Road, 346129473@qq.com)