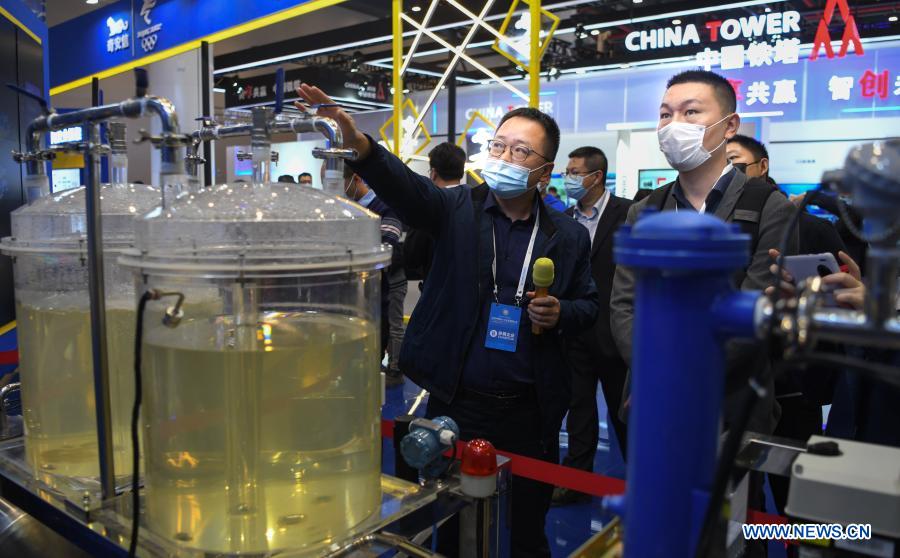 Visitors learn about a production control system for chemical industry on display at an exhibition during the "China 5G + Industrial Internet Conference" in Wuhan, central China's Hubei Province, Nov. 19, 2020. (Xinhua/Cheng Min)
BEIJING, Dec. 1 (Xinhua) -- Southwest China's Yunnan Province recently unveiled a plan to boost the deep integration of 5G and industrial Internet with the aim to push up high-quality economic development of the whole province, reported Yunnan Daily Monday.
According to the plan, by taking the development opportunities of new infrastructure construction and the new-generation information and communication technologies, Yunnan will strive to provide speedy and safe 5G network support to its demonstration bases of new industries and key industrial parks, forming a batch of "5G plus industrial Internet" demonstration application bases.
The province will also cultivate a number of "5G plus industrial Internet"typical application scenarios in its featured industries, and meanwhile build "5G plus industrial Internet" public service platforms, and security and application promotion guarantee systems, promoting the integrated development of 5G and industrial Internet.
Besides, it will encourage and support the profound cooperation between basic telecommunication enterprises and industrial enterprises, so as to build a batch of integrated application projects with benchmark and demonstration significance.
The province will continue to introduce and improve related policies supporting "5G plus industrial Internet" development, and meanwhile build a "5G plus industrial Internet" project library, selecting some high-quality demonstration projects to achieve special fund support.
(Edited by Gu Shanshan with Xinhua Silk Road, gushanshan.1987@163.com)