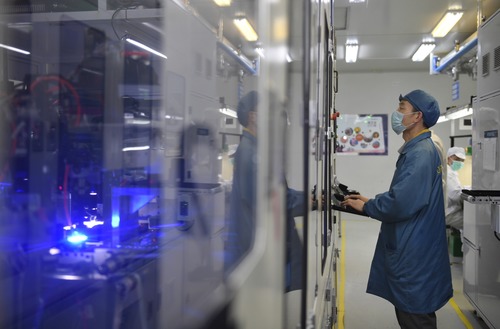 A worker works at the workshop of the Jabil Technology(Chengdu) Co., Ltd. in Chongzhou Economic Development Zone in Chengdu, southwest China's Sichuan Province, March 23, 2020. (Xinhua/Liu Kun)
BEIJING, Dec. 1 (Xinhua) -- Chengdu, the capital city of southwest China's Sichuan Province is expected to achieve 20 billion yuan in core industry output of artificial intelligence (AI) this year, according to the latest AI development report released by the provincial think tank.
Meanwhile, the output value of Chengdu's AI-related industries will exceed 200 billion yuan in 2020.
Sichuan Province has initially formed an AI industry cluster represented by robots, drones, intelligent medical care and intelligent security. However, the small and medium-sized enterprises in the sector are still facing difficulties in realizing AI technologies implementation.
In response to the country's call for promoting connection between AI industry and the small and medium-sized firms, Chengdu released 36 detailed application needs in real estate, engineering construction, medical medicine and other fields.
Some Chinese leading AI unicorn enterprises such as Cloudwalk and Sense Time have released solutions in facilitating AI technologies implementation.
It is noted that the unicorn companie means startups valued at 1 billion U.S. dollars or more and are not yet listed.
(Edited by Jiang Feifan with Xinhua Silk Road, 346129473@qq.com)