AVIC International Leasing Co., Ltd. (AVIC International Leasing), with the promotion of Haikou Jiangdong New Area Administration and Haikou international investment promotion bureau, signed a contract with Haikou Jiangdong New Area Administration this August, and recently delivered a 59,990 DWT river-to-sea bulk carrier ship for domestic trade through the Special Purpose Vehicle (SPV) platform set up in Haikou. This is Haikou's first ship leasing business since the the Hainan Free Trade Port policies were released as well as an embodiment of the acceleration of the implementation of the free trade port policies in Haikou.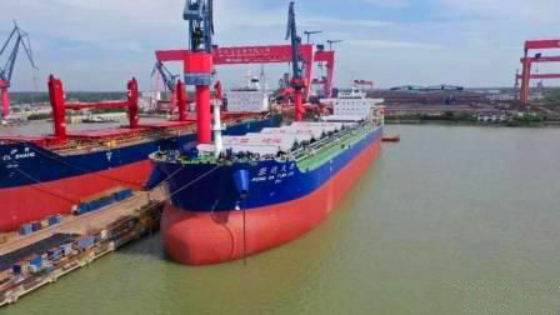 (eworldship.com)
The newly delivered "Rongda Tianjin" is the largest river-to-sea maximum type ship in China so far, and also carries the largest deadweight tonnage of any ship registered to date by the Hunan provincial maritime safety administration. The ship, which boasts a high cargo capacity, a shallow draft, and low energy consumption, is capable of direct transportation from river to sea and providing economic water shipping on the Yangtze River Delta and within the Yangtze River economic zone by reducing logistics costs and shortening the logistics cycle.
According to an official of AVIC International Leasing, so far they have launched aircraft, equipment, and ship leasing businesses in Hainan, providing a model of seeking innovative practices and the diversified development of the comprehensive leasing service mode in the Hainan Free Trade Port.
An official of Haikou Jiangdong New Area Administration says the financial leasing industry is of great importance in Haikou's Jiangdong New Area. The Jiangdong New Area plans to comprehensively improve the local business environment and provide one-stop services for financial leasing companies in order to provide support for domestic and international financial leasing companies relocating to Hainan to enjoy the preferential policies of the Hainan Free Trade Port.
(Source: hihainan)