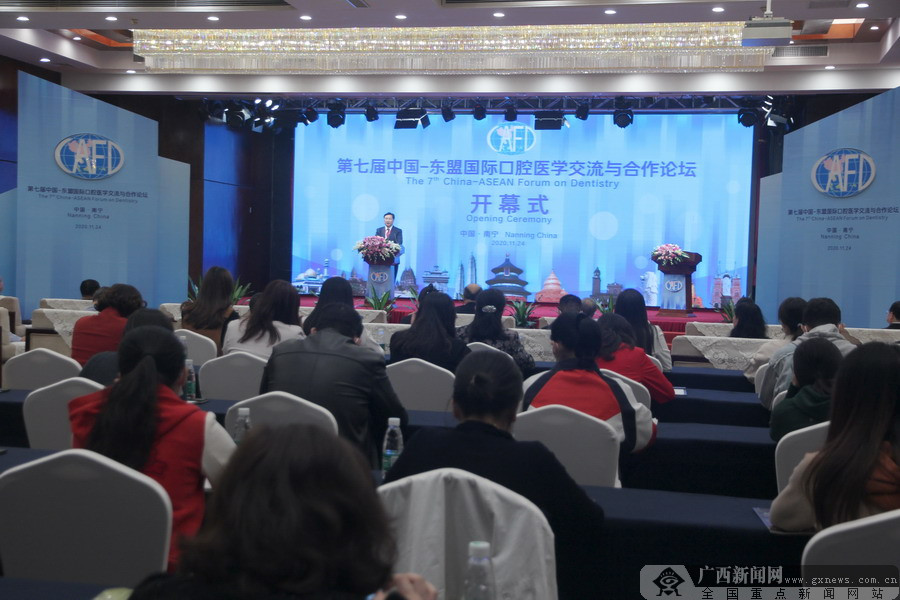 Photo taken on November 24 shows the interior scene of the 7th China-ASEAN Forum on Dentistry. (Source: gxnes.com.cn)
NANNING, Nov. 25 (Xinhua) –The 7th China-ASEAN Forum on Dentistry kicked off Tuesday in Nanning, the capital city of south China's Guangxi Zhuang Autonomous Region.
Themed on "Dentistry Development Strategy amid the COVID-19 pandemic", the forum attracted Chinese and ASEAN health experts to share their views and insights about the COVID-19 epidemic affection on stomatology in China and ASEAN countries, and discuss further exchanges and cooperation.
Cui Gang, an official of the Bureau of Disease Prevention and Control under China's National Health Commission, said that the forum marks great importance in deepening the health cooperation between China and ASEAN countries and strengthening health communication under the Belt and Road Initiative (BRI).
Cui added that the forum would further promote the cooperation and innovative development in the stomatology sector between China and ASEAN and facilitate the joint effort in epidemic prevention and control.
China and ASEAN countries have conducted all-round exchanges and cooperation under the BRI. The forum built up a platform for China and ASEAN countries to seek new development paths in the post-epidemic era, according to Yu Guangyan, head of the Chinese Stomatological Association.
Noting the international health cooperation, Dr. Thet Khine Win, Permanent Secretary of Myanmar's Ministry of Health and Sports said that Myanmar and China have intensified cooperation amid the COVID-19 epidemic, which has become a model of cooperation between ASEAN countries and China.
Meanwhile, Laos is looking forward to seeking opportunities through the multilateral health cooperation platform to promote exchanges and cooperation in the health sector between Laos and China, said Dr Phouthone Meuangpak, Vice Minister of Health, Lao PDR, in a speech via video link.
With its regional advantages, Guangxi will deeply promote exchanges and cooperation with ASEAN countries, and it will continue to host the forum to promote joint prosperity and development, said Huang Ribo, Vice-chairman of CPPCC in Guangxi.
The two-day event scheduled on November 24-25 is hosted online and offline by China's National Health Commission, the National Administration of Traditional Chinese Medicine, and the regional government of Guangxi.
(Edited by Jiang Feifan with Xinhua Silk Road, 346129473@qq.com)