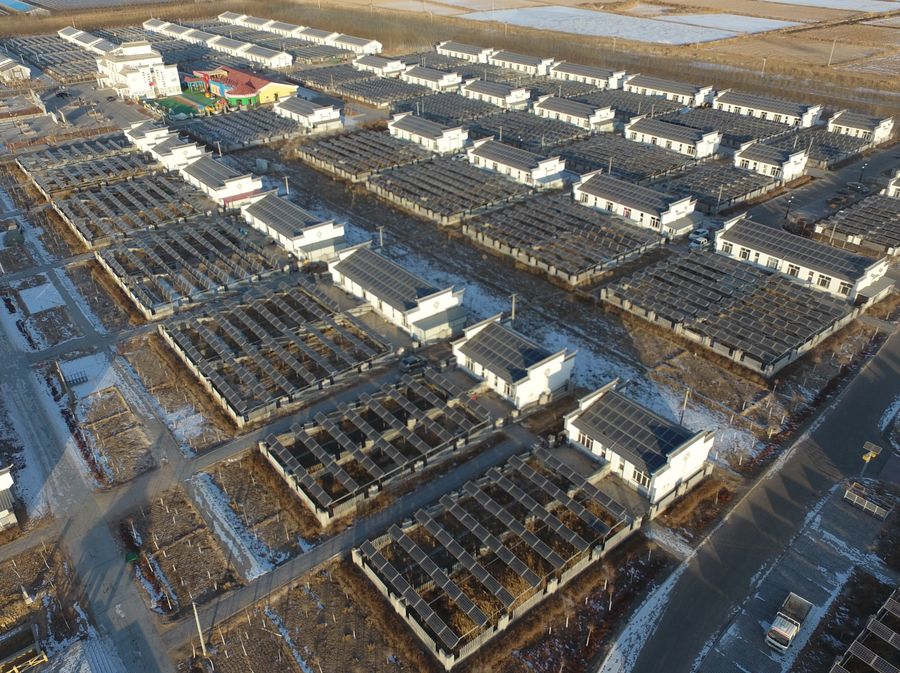 Photo taken on Jan. 22, 2018 shows a general view of Lianxing Village of Wuyuan County, north China's Inner Mongolia Autonomous Region. Villagers of 457 families in Lianxing were relocated to new houses with photovoltaic (PV) equipments in 2015 with the help of government's poverty relief policy and PVenterprises. (Xinhua/Liu Lei)
BEIJING, Nov. 19 (Xinhua) – China's photovoltaic (PV) industry saw growing revenue and profit in the third quarter, benefiting the whole industrial chain, according to the statistics from Wind, a financial information service provider.
Statistics show that in the third quarter of this year, the PV industry registered a revenue of 60.79 billion yuan (about 9.26 billion US dollars), up 47.25 percent year on year. Its profit surged to 9.37 billion yuan, marking a year-on-year increase of 93.07 percent.
Market players in the whole industrial chain, from the upstream polysilicon and silicon wafers, to the midstream photovoltaic glass and solar cells, and to the downstream inverters and modules, were favored by investors.
Industry insiders believe that the decreasing cost has contributed to the booming industry.
Citing China as an example, the average cost of photovoltaic power generation in 2018 has been cut by 77 percent compared to that of 2010, according to Zhongtai Securities. Therefore, PV battery has become a bright spot in the field of renewable energy.
It is also learned that the industry is likely to go through relatively fast growth in the medium-and-long-term, as global market welcomes a greener energy mix.
For instance, in September this year, the European Union stepped up efforts to conserve energy and reduce emission. It vowed to reduce greenhouse gas emission by 55 percent by 2030.
China, a responsible economy, will also keep its promise of peaking carbon dioxide emissions by 2030 and achieving carbon neutrality by 2060.
Industrial insiders pointed out that countries will be less reliant on fossil fuels and turn to clean energy in order to realize the goal of carbon neutrality.
CITIC Securities estimated that a total of 190 gigawatt (GW) of PV installed capaicty will be added in 2022, including 60-65 GW in China. The annual average increase of PV installed capacity is expected to top 200 GW in the coming five years.
(Edited by Li Shimeng with Xinhua Silk Road, lishimeng@xinhua.org)