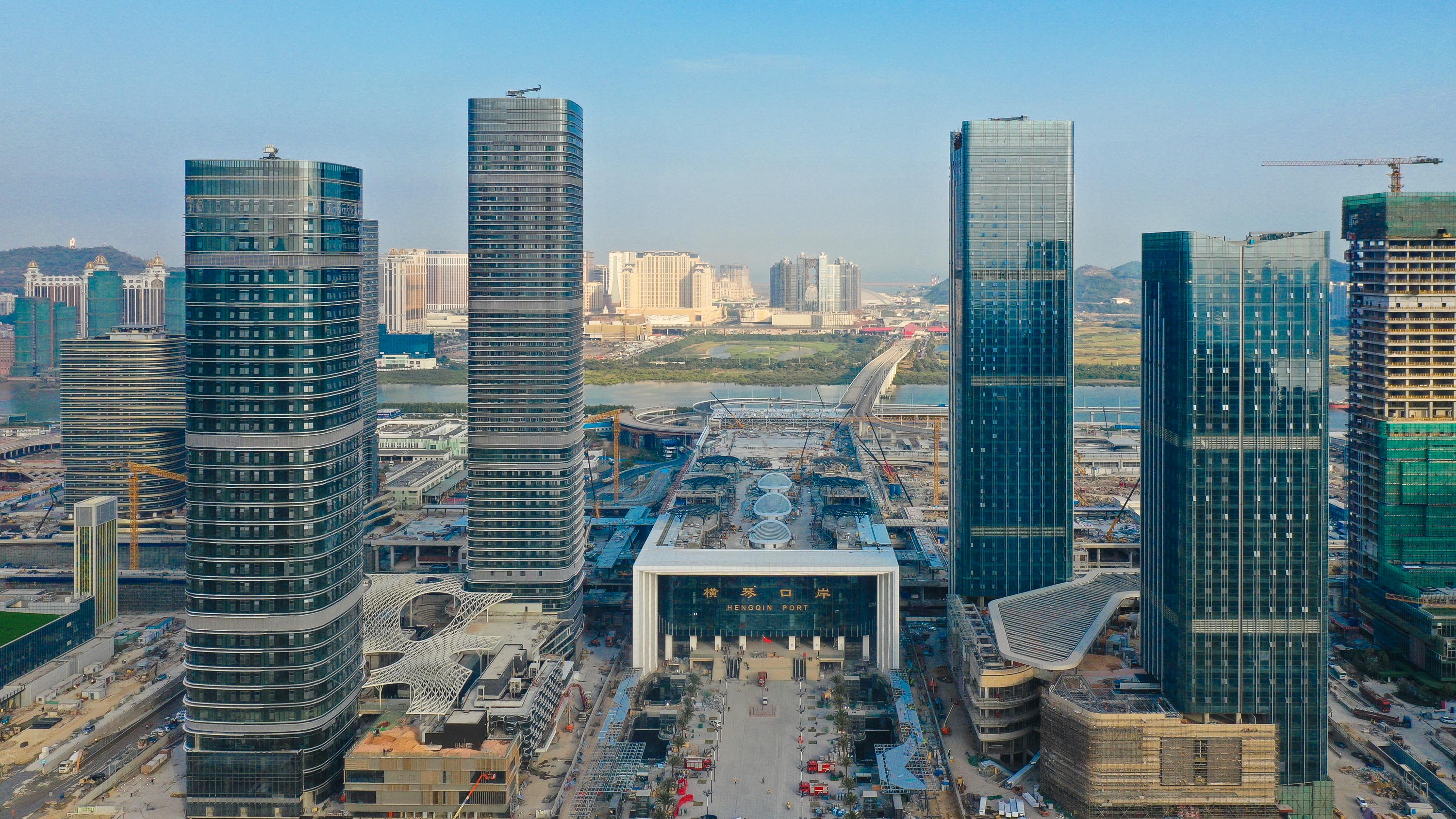 BEIJING, Nov. 19 (Xinhua) -- Hengqin New Area, situated in Zhuhai city of south China's Guangdong Province, has gradually shaped a set of financial services system to promote financial cooperation with Macao.
About one year ago on November 26, 2019, Hengqin New Area was approved to pilot free trade (FT) accounts service, which served as an important infrastructure to deepen its financial cooperation with Macao.
Bringbuys, a Macao-based startup, opened the first FT account in Hengqing New Area. "Under the FT account, enterprises can realize integrated account management of both the local currency and foreign currencies. The FT account allows use of multiple currencies and adopts offshore exchange rate prices therefore companies can avoid exchange risks to improve efficiency in settlement, remittance and financing," said an executive from Bringbuys.
In fact, FT account is merely a minor step for Hengqin New Area to innovate its financial services to boost diversified economic development of Macao. Hengqin New Area pioneered the cross-border RMB loans business, macro and prudent management over full-coverage cross-border financing, and unified operation and management of local and foreign currencies by transnational enterprise groups to vigorously support its financial cooperation with Macao.
Since its setup in 2009, Hengqin New Area has been given a series of preferential financial policies by the State Council, the Chinese central bank, China's securities, banking and insurance regulators and local financial authorities, helping the area lay the basis for better facilitating diversified economic development of Macao, Chi Tenghui, head of the Hengqin New Area financial service bureau told Xinhua.
By far, Hengqin has founded a financial services framework comprising of Hengqin New Area financial service bureau, Hengqi financial service company, Hengqin financial innovation research academy, Hengqin smart finance academy and Hengqin New Area financial industry association to materialize its policies regarding financial cooperation with Macao and extend their cooperation in a wider scale.
What's more, Macao citizens can purchase houses in Hengqin New Area with help of related housing mortgage service and by mid November, its receipt of foreign currencies exceeded the equivalents of 690 million U.S. dollars.
Chi Tenghui held that "the housing mortgage service solves the primary obstacle for Macao citizens to live in Hengqin, which turns more attractive to Macao citizens." As more and more Macao citizens are expected to live in Hengqin, more convenient daily financial services, wealth management and payment services are required to be rolled out.
Recent years, Hengqin has been promoting Macao financial institutions to come to Hengqin to run business. It collaborated with Macao financial institutions in cross-region investment and payment to enhance interconnectivity of the two localities.
As early as in 2018, the Guangdong-Macao cooperation and development fund with a total size of 20.01 billion yuan had been set up and nowadays, the fund has become a tractor to draw Macao businesses to participate in development of Guangdong.
To some extent, the Guangdong-Macao cooperation and development fund is a milestone in breaking obstacles barring financing and fund flows in the Guangdong-Hong Kong-Macao Greater Bay Area and innovating Guangdong-Macao financial cooperation modes, said Chi Tenghui.
By November 10, the fund has completed investment of 13.1 billion yuan in 14 programs mainly engaged in rail transport and comprehensive services in the Guangdong-Hong Kong-Macao Greater Bay Area.
The Hengqin New Area also established 100 million yuan of angel investment master fund to help Macao youths' business-starting and innovation.
Under the pilot policies of qualified foreign limited partner (QFLP), Macao investors enjoy much lowered thresholds regarding subscribed capital and net asset requirement in their investment in Hengqin New Area. Currently, the first Macao investor-funded QFLP-based equity investment management company has been operational in the area. (Edited by Duan Jing with Xinhua Silk Road, duanjing@xinhua.org)