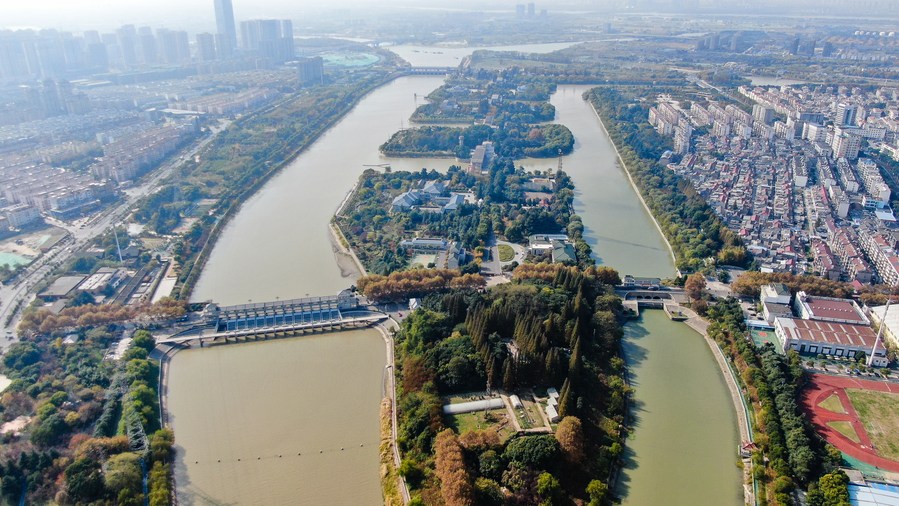 Aerial photo taken on Nov. 14, 2020 shows the Jiangdu Key Water Conservancy Project in Yangzhou, east China's Jiangsu Province. (Xinhua/Ji Chunpeng)
BEIJING, Nov. 19 (Xinhua) -- China is expected to accelerate the infrastructure investment in the coming months with more investment from the central government budget and special local government bonds to be in place in the fourth quarter, said experts on Wednesday.
According to the National Bureau of Statistics (NBS), the country's infrastructure investment increased by 0.7 percent in the first ten month, 0.5 percentage points higher than that of the first three quarters.
The speeding recovery of growth in infrastructure investment, could be attributed to increased fiscal investment entering the fourth quarter, said Xie Yuliang, chief analyst of Minsheng Securities.
Data from the Ministry of Finance (MOF) showed that in the first ten months, China's newly-issued special local government bonds for supporting infrastructure construction amounted to 3.55 trillion yuan. In a breakdown, Shandong, Guangdong, Jiangsu ranked the top three province with the issuance amount of 313.4 billion yuan, 309.1 billion yuan and 221.3 billion yuan during the period, respectively.
Thanks to the better use of special local government bonds in September, October has witnessed growing investment in infrastructure. Funds raised from the special local government bonds have been channeled to infrastructure projects, reducing idle funds, noted Li Qilin, an influential Chinese economist.
MOF recently issued a circular urging local authorities to optimize the use of local government bonds, to support infrastructure construction.
Chu Jianfang, chief economist of CITIC Securities, anticipated that the infrastructure investment will maintain stable growth before the end of the year, with an expected monthly growth rate of 7 percent, if the overall fiscal investment keeps growing.
(Edited by Li Shimeng, Hu Pingchao with Xinhua Silk Road, lishimeng@xinhua.org, hupingchao@xinhua.org)