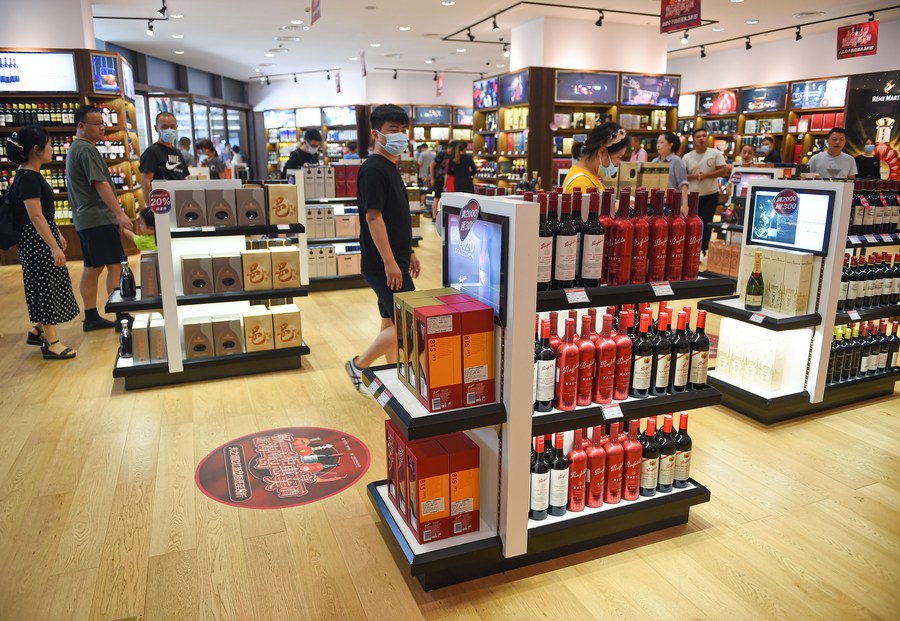 Customers visit a duty-free shop in Haikou, south China's Hainan Province, Oct. 4, 2020. (Xinhua/Pu Xiaoxu)
BEIJING, Nov. 18 (Xinhua) -- Haikou, capital city of south China's Hainan Province, recently unveiled a work plan to boost consumption, reported Hainan Daily Wednesday.
According to the plan, the city will make efforts to tap the potential of duty-free consumption, build new high-end business districts, enrich consumption scenarios, spur car consumption, optimize consumption environment, foster food and beverage consumption, and support e-commerce development.
To be specific, Haikou will strive to establish and expand four duty-free shops before the end of this year, and it will also expand the business area of luxury brands, making the area of phase II duty-free shops in the Haikou Meilan International Airport reaching 9,000 square meters after expansion.
It also plans to add 50,000 square meters of duty-free shops in the Haikou Sun Moon Plaza, and introduce more luxury brands.
The city will introduce international high-end brands in the core business district and promote the opening of branded convenience stores in the business district.
It will also build a batch of new tourist consumption blocks integrating tourism, leisure and shopping in its featured geographical indications like the Haikou Bay, and meanwhile upgrade and renovate a number of old business centers and vigorously build smart business districts.
In terms of enriching consumption scenarios, Haikou will vigorously develop community businesses such as brand chain convenience stores, and boost demand and consumption in tourism route development, night economy, sports events and theatrical performances.
The city has already unveiled a subsidy policy for consumers to buy cars. From November 5 to December 31 this year, a subsidy of 3,000 yuan will be given to eachone who buys a new car. An incentive policy for auto sales companies was also introduced to encourage sales companies to strengthen sales promotion.
Haikou will simplify the approval procedures for outdoor advertisement in shopping malls and stores, increase the frequency of holding consumer exhibitions, and encourage the organizers to reduce the cost of participating in such exhibitions.
As for catering consumption, Haikou will join hands with hotel and catering associations to organize major brand catering hotels and night market neighborhoods to carry out a series of activities such as night market carnivals.
Haikou will also grant the top ten e-commerce companies included in its statistics this year and with new retail sales revenue exceeding 10 million yuan each with a capital reward of one thousandth of its new sales revenue which can be up to 500,000 yuan.
(Edited by Gu Shanshan with Xinhua Silk Road, gushanshan.1987@163.com)