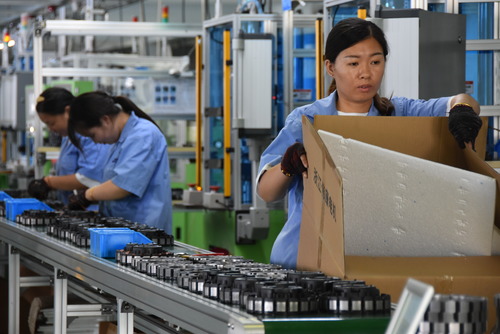 Employees work at a workshop of an electrical machinery company in Huzhou, east China's Zhejiang Province, Sept. 3, 2020. (Xinhua/Zheng Mengyu)
BEIJING, Nov. 18 (Xinhua) -- The value-added generated by core digital economic enterprises in east China's Zhejiang Province totaled 489.39 billion yuan in the first three quarters of the year, taking 10.7 percent of Zhejiang's GDP in the period, reported Zhejiang Daily Tuesday.
During the same period, 164.45 billion yuan of added value was generated by major digital economy industries above the designated size, with an increase of 14.4 percent year on year.
With the rapid transformation from traditional manufacturing to intelligent manufacturing, Zhejiang's industrial Internet platform system has connected with more than 49 million industrial equipment products, providing professional services for more than 110,000 industrial enterprises.
The rapid development of Zhejiang's 5G network has also stimulated the local digital economy's vitality. For example, a local intelligent equipment enterprise joined hands with China Unicom to build a high-standard 5G factory in the logistic equipment industry.
Meanwhile, the new generation information technology industry in Zhejiang achieved an added value of 76.36 billion yuan in the first three quarters, increasing 20.9 percent over the same period last year, contributing 45.2 percent to the province's strategic emerging industries.
(Edited by Jiang Feifan with Xinhua Silk Road, 346129473@qq.com)