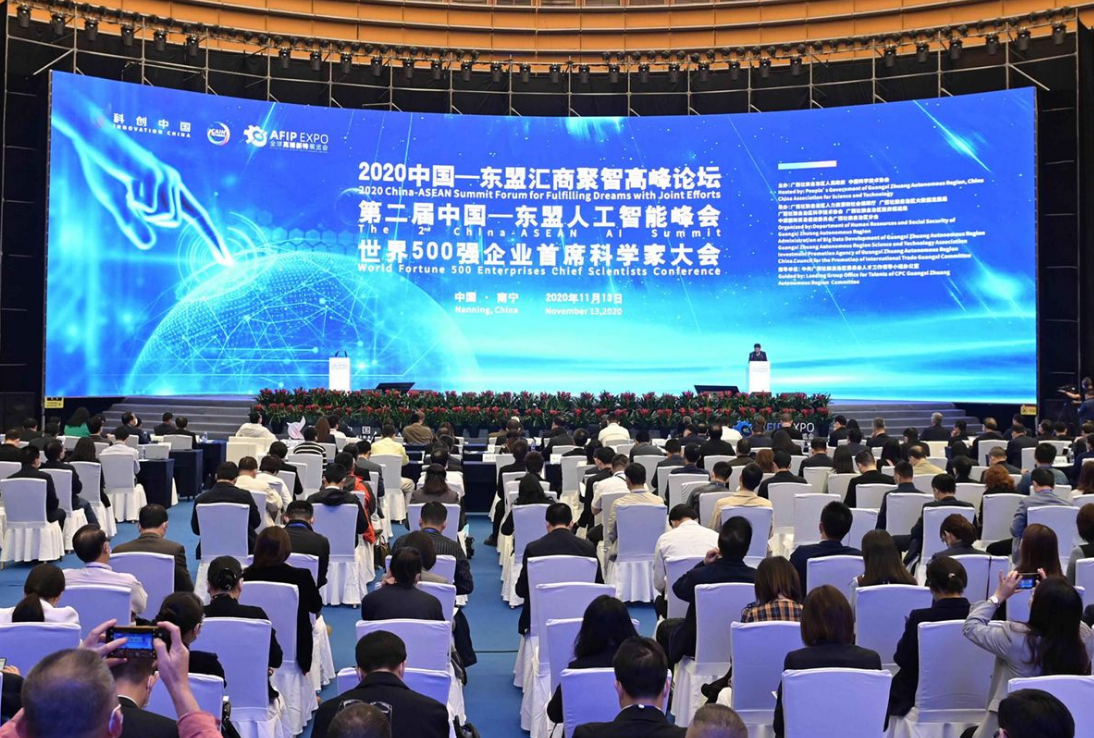 Photo: The Second China-ASEAN AI Summit kicks off in Nanning, capital of south China's Guangxi Zhuang Autonomous Region on Nov. 13.
NANNING, Nov. 13 (Xinhua) -- As the Second China-ASEAN AI Summit is staged in its capital city Nanning on Friday, Guangxi Zhuang Autonomous Region makes efforts to improve its digitalization and informatization infrastructure.
The summit, themed on "Attracting Talents to Boost Achievements, Making Innovations and Business to Win the Future", is attended by guests from across the world, including Nobel Prize Laureates, academicians and top AI experts, government officials, and company executives.
AI technology companies such as Siemens, Huawei, Alibaba, Tencent and Baidu, also attend the summit discussion and a digital technology exhibition held both online and offline, to talk with potential business partners.
In recent years, Guangxi has put emphasis on the development of digital economy. The summit is part of efforts of the Government of Guangxi Zhuang Autonomous Region, the host province of the summit, to spearhead the region's digital economic competitiveness.
The total value of Guangxi's digital economy is estimated at about 659.3 billion yuan (about 99.62 billion U.S. dollars) in 2019, representing 31.05 percent of the region's GDP, according to Wu Zhiwei, deputy director of the Guangxi Big Data Development Bureau.
Digital infrastructure construction has helped improve Guangxi's investment attractiveness. The digitalization of government affair service has already played an important role in promoting its opening-up and improving its business environment.
Statistics show that state-owned enterprises (SOEs), private enterprises and enterprises from the Guangdong-Hong Kong-Macao Greater Bay Area witnessed signing of 1,361 deals from Jan. 1 to July 15 this year, involving a total investment of 1.8 trillion yuan. The amount of the region's foreign investment in actual use stood at 830 million U.S. dollars in the first three quarters of 2020, up 10.7 percent.
With the help of this summit, Guangxi is to further integrate needs of key industries, emerging industries and high-tech industries in the region, forming joint efforts to grope for a roadmap over talent, science technology, innovation and business star-ups, according to Zhou Hongbo, vice chairman of Government of Guangxi Zhuang Autonomous Region, who delivered a keynote speech at the opening ceremony of the summit on Friday.
He said the region would make good use of the platform of "Innovation China" to unite various innovative elements from governments, utilities, enterprises, universities, research centers to press ahead deep fusion of technology, industry and economy, so as to achieve a common success in Guangxi. (Edited by Qiu Jun, Hu Pingchao with Xinhua Silk Road, qiujun@xinhua.org)