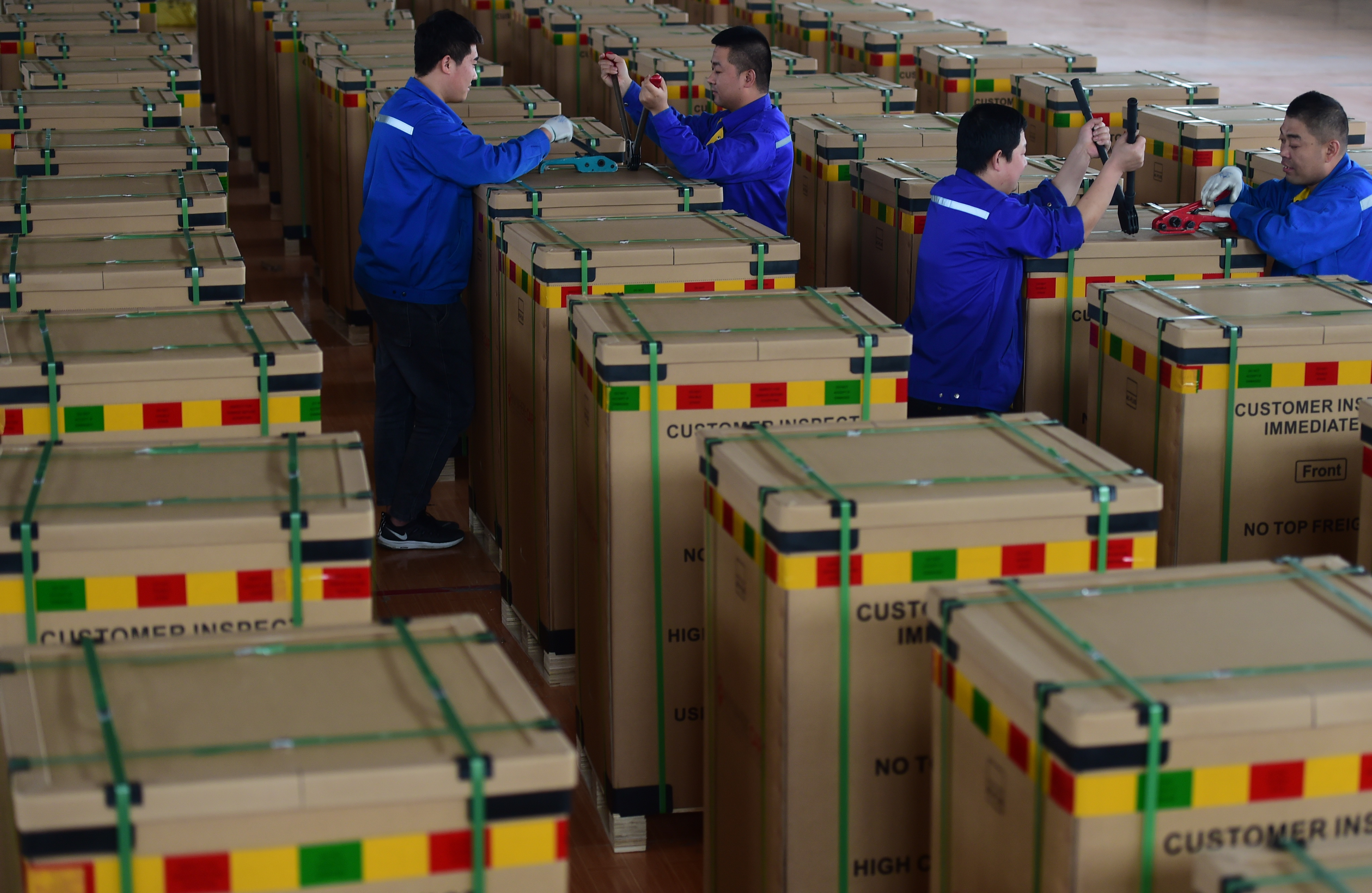 Photo: In the China-CEE (Cangzhou) SME cooperation zone, workers of Hebei Haijie Teaching Equipment Co., Ltd. are packing products to be exported to the overseas market.
BEIJING, Nov. 12 (Xinhua) – China's export value increased 7.6 percent year on year to 1.62 trillion yuan in October, hailing robust growths for four consecutive months. The high-speed growing trend is anticipated to carry on into the first quarter of 2021.
-- Oct. exports attributable to recovered global demand and export substitution
Statistics with the General Administration of Customs (GAC) showed that China's exports in Octobermarked the fourth consecutive month with growth of above seven percent. It helped lift the export growth of the country in first ten months to 2.4 percent with total value of 14.33 trillion yuan.
Experts attributed the strong October exports mainly to effects of "export substitution" and recovering global demands.
Since the second and third quarters of this year, China's prominent recovery advantages in supply chains attracted and absorbed increasing global demands and fueled its export surge and rise of export market share.
Li Chao, chief economist with Zheshang Securities pointed out that the huge shock of the COVID-19 to the global labor market and enterprises could not be eliminated within a short period, resulting in the sluggish industrial production in advanced economies such as the U.S.A., Germany and France and developing countries such as Thailand, dropping inventory of enterprises after the outbreak of the pandemic, and the growing ratio of current-account deficit to GDP in some countries.
Compared with economies suffering low inventory, sluggish production and worsening trade, China's economic turnaround, complete industrial sectors and fast recovery of supply chains demonstrated its explicit advantages, noted Li.
According to Huachuang Securities, China's exports in the second quarter accounted for 15.7 percent of the total exports of the world's 24 major economies, up by 3.2 percentage points compared with the 12.5 percent in 2019. Among the growth, 20 percent is permanent share increase. Based on these, China's export market share is expected to drop to 13.1 percent after the pandemic.
-- Exports in 2021 to expand but likely with less driving force
In 2021, China's exports is expected to continue to expand but different sectors may present diversified trends, with the overall growth drivers to weaken compared with that in the second half of 2020, predicted China International Capital Corporation (CICC).
CICC based the projection on the weakening supply advantages of exports by China next year, saying that the overseas economy in 2021 will be characterized by the accelerating recovery in service sector, which, compared with commodities economy, has relatively small effect on pulling up China's exports.
In other words, the spillover effect of the global economic recovery on China's exports in 2021 will be weaker than that of the second half of this year, according to CICC.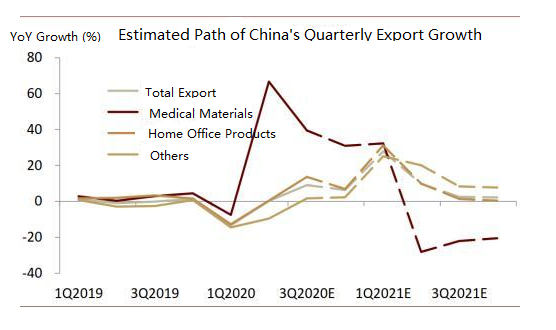 Source: Wind & the research department of CICC
"Currently, China's exports have entered into the process featuring recovering global demand and declining market share. As we estimate that one percentage point of China's export market share growth can make up 6-7 percentage points of drop of external demands, the export growth rate in the first half of 2021 can reach or slightly exceed that of the second half of 2020," reckoned Zhang Yu, chief macro analyst of Hua Chuang Securities.
In a recent survey, however, most foreign trade enterprises, in spite of receiving currently "explosive overseas orders", were pessimistic about the export situations in the second half of 2021 given the depressed market demand and a slow global economic recovery.
They thought the current growth of overseas demands may eat away at future demands. Some enterprises even worry the export in the second half of 2021 may be "worse" than that of the second quarter this year.
According to a head of one dental appliance enterprise based in Yangzhou of east China's Jiangsu Province, overseas orders have recovered to 80 percent or 90 percent, but the situation may remain grim in 2021 because the world economy was hit hard. "On the basis of the domestic county-level markets, we manufacture low-price electric toothbrushes, and these products sell well. We will continue to focus on the home market," said the head of the enterprise.
All of these echoed with the CICC's above-mentioned judgment that performances of different sectors may diversify in 2021. For instance, exports of some products will continue to expand such as the home office-related products, industrial intermediate products and investment goods in light of the overseas production resumption. By contrast, anti-epidemic materials exports are likely to weaken next year.
To tackle these, many Chinese manufacturers shifted to focus on the domestic market to make up the lost demands overseas.
Others said their production capacity can be guaranteed until March or April next year, and they are optimistic about the export prospect in the first quarter next year. (Edited by Duan Jing with Xinhua Silk Road, duanjing@xinhua.org)