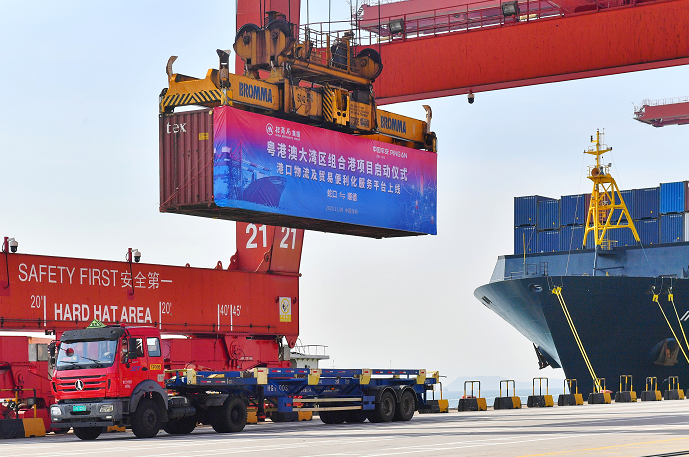 BEIJING, Nov. 10 (Xinhua) -- Shekou-Shunde combined port project, the first container business project under the Guangdong-Hong Kong-Macao Greater Bay Area (Greater Bay Area) combined port program, was launched concurrently in Shekou and Shunde, south China's Guangdong province on Monday, reported the Xinhua-run China Securities Journal.
The Greater Bay Area combined port program, jointly undertaken by Ping An Insurance (Group) Company of China and China Merchants Group and promoted by Shenzhen government, Shenzhen Customs, Guangzhou Customs among others, is a new infrastructure project for trade that integrates the whole trade process of ports, customs, logistics, enterprises and finance.
Based on cutting-edge technologies such as block-chain, big data, artificial intelligence and cloud computing, the Greater Bay Area combined port program has set up logistics data standard and platforms for key ports and simplified cargo clearance process. By innovating regulatory technologies and models, the prgram has also optimized the environment for carrying out cross-border trade and business.
Under the Shekou-Shunde combined port project, export enterprises are required to go through only one-time declaration and inspection procedure to transport goods from Shunde port to Shenzhen port for export, thus saving costs.
Due to optimized supervision under the combined port project, the overall duration of import and export logistics is reduced from five-seven days to two days, with the efficiency increasing 60 percent and enterprises' costs dropping 30 percent.
It is learned that the combined port mode will be implemented in the 37 ports in the Greater Bay Area, in a bid to realize the interconnection, intercommunication and mutual recognition between customs. (Edited by Su Dan with Xinhua Silk Road, sudan@xinhua.org)