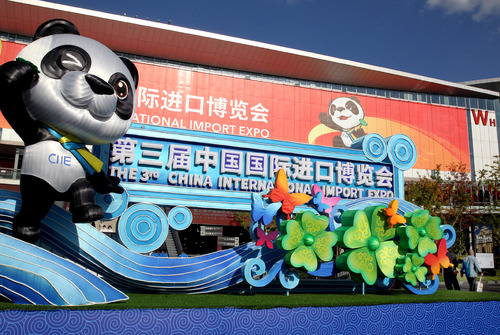 Photo taken on Nov. 3, 2020 shows Jinbao, mascot of the China International Import Expo (CIIE) in east China's Shanghai. (Xinhua/Chen Fei)
BEIJING, Nov. 5 (Xinhua) -- The 3rd China International Import Expo (CIIE) will see over 50 of Fortune Global 500 companies and leading enterprises, including Michelin, Abbott and Nike, debut in all its six exhibition sections.
-- New comers expect to seize opportunities in China
Michelin, the French tyre manufacturing giant, will show off MICHELIN XDR 3 for the mining industry as one of the CIIE new comers, which is known as the largest tyre in the world. It will also, for the first time in China, introduce its Symbio StackPack M.
Kamran Vossoughi, president and CEO of Michelin China, said that CIIE is a platform for building and enhancing business bonds, and his company comes to build up the bonds.
Michelin has the intention to gain more insights into clients' and consumers' needs and respond with innovative services and solutions, and grasp the dynamics and trends of Chinese market to help the company refine its development strategy, said Kamran Vossoughi.
Singapore Business Federation (SBF), the sole official exhibition organizer of Singapore for the 3rd CIIE, will lead a delegation to participate in the event. It is the country's first appearance in international expo since the breakout of COVID-19 pandemic.

SBF has organized 44 exhibitors and a purchasing group from Singapore to this event. Among them, more than 25 percent of the companies come for the first time.
The food and agricultural products exhibition area will be highlighted by French Agriculture and Food Committee (CAFC) and 12 French dairy and fresh vegetable & fruit magnates.

According to Li Bei, CAFC chief representative to China, three of the 12 French exhibitors will take their first run in this year's CIIE.
Li Bei added that China's imports keeps increasing and China has become France's important dairy and V&F export market outside of EU, and the previous two successful sessions amplify the influence of CIIE on international trade.
-- China's economic resilience drives economic recovery
According to Kamran Vossoughi, the pandemic has brought many changes and uncertainties to the market, but Michelin's business in China showed strong resilience and quickly recovered. Boasting a performance better than before the pandemic, the company is confident about its future growth.
He added that Michelin is introducing and producing hi-tech tyres in Shanghai and Shenyang, and is developing non-tyre businesses such as green trip and hydrogen battery.
Singaporean enterprises have already witnessed opportunities in Chinese market through the previous two CIIE sessions, where the Singaporean exhibitors concluded with 41 cooperation MoUs valued 412 million Singapore dollars (about 2.05 billion yuan).
Icona, a global design company to debut in CIIE, has offices both in Italy and in China's Shanghai. Enea Colombo, general manager of Icona, said that in the past 10 years, Icona provided design services for 80 percent of Chinese car body makers including Geely and FAW.
In its next run, Icona will increase its investment in China, especially in expanding the markets of smart city, unmanned piloting and other futuristic technologies.
Japanese top clothing retailer Uniqlo will also make its first appearance in CIIE with a 1,500-square-meter showcase.
Since March, Uniqlo Greater China has reported business recovery faster than expected. As of the end of October this year, Uniqlo has nearly 800 stores in China. The company has confidence in Chinese market and hopes to use its dress products to foster Chinese consumer market.
-- Old friends to bring innovations
In its third participation in a row, global bio-pharmaceutical company AstraZeneca will impress CIIE visitors with its double showcases covering over 1,100 square meters, one of the largest medical equipment and health products booths.
Lai Minglong, general manager of AstraZeneca China, said that his company will also appear in the public health and disease control exhibition area to demonstrate its key research and development (R&D) approaches to COVID-19 vaccine and cures.
The 3rd CIIE is more attractive to Fortune Global 500 companies and industrial leading enterprises, according to Sun Chenghai, vice director of China International Import Expo Bureau, adding that over 70 percent exhibitors have participated in the previous CIIEs.
Sun reveals that the exhibition area is expanded 14 percent over the previous session, and dozens of enterprises have signed agreements on the next three sessions' attendance.
The majority of top 10 enterprises in medicine, medical equipment, dairy, high-end consumer goods, automobile, industrial electric and engineering machinery industries will attend the Expo, added Sun.
In addition, hundreds of new products, new technologies and new services will be released during the 3rd CIIE.
(Edited by Jiang Feifan with Xinhua Silk Road, 346129473@qq.com)