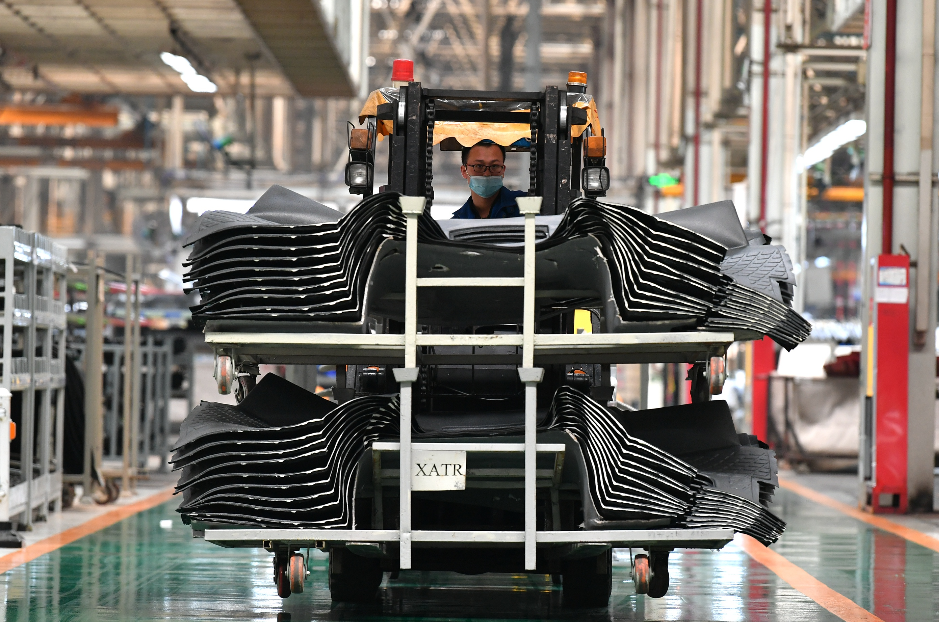 An employee works at a heavy-duty truck assembly line of Shaanxi Automobile Holding Group Co., Ltd. in Xi'an, capital of northwest China's Shaanxi Province, April 23, 2020. (Xinhua/Zhang Bowen)
BEIJING, Nov. 3 (Xinhua) -- Xi'an, capital city of northwest China's Shaanxi Province, has recently unveiled a circular to map out its modern industrial development, with the focus on the advanced manufacturing, the local newspaper reported on Tuesday.
According to the circular, by 2022, Xi'an will basically form five pillar industries each at a market size of 100 billion yuan (about 14.95 billion U.S. dollars). Notably, the output value of the advanced manufacturing enterprises each with the main business revenue above 20 million yuan annually will have average annual growth of more than 15 percent, with the proportion of the advanced manufacturing in its GDP further increased.
The circular proposed that the total output value of the city's advanced manufacturing enterprises above the designated size will exceed 1 trillion yuan by 2025, accounting for 70 percent of the sizable industries.
Meanwhile, the city will focus on development of the high-tech industry, advanced manufacturing industry, and the cultural tourism industry.
To enhance its core competitiveness, Xi'an will vigorously promote development of the pillar industries such as electronic information manufacturing, automobiles, aerospace, high-end equipment manufacturing, new materials, new energy, and biomedicine. At the same time, it will expand the scale of the emerging industries such as artificial intelligence (AI), 5G industry, additive manufacturing, robotics industry, big data and cloud computing industry, according to the circular. (Edited by Hu Pingchao with Xinhua Silk Road, hupingchao@xinhua.org)