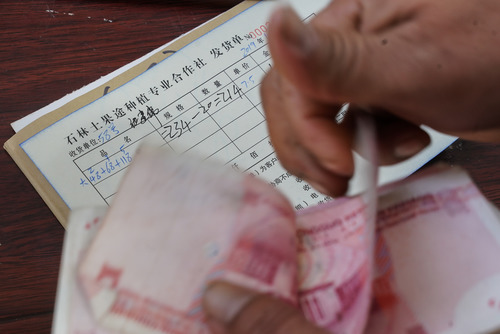 Photo taken on Nov. 28, 2019 shows the income of Villager Zhang Jianwei earned from the farmers' specialized cooperative by selling pepino melons on that day in Luhua Village of Xijiekou Town, Shilin Yi Autonomous County, southwest China's Yunnan Province. (Xinhua/Cheng Min)
BEIJING, Oct. 29 (Xinhua) – The balance of loans in domestic and foreign currencies in southwest China's Yunnan Province stood at 3.44 trillion yuan by the end of September, reported Yunnan Daily Wednesday.
The province's balance of deposits in foreign currency and Chinese yuan totaled 3.57 trillion yuan in the first nine months of the year, up 6.93 percent from the year beginning.
During the same period, Yunnan's household deposits amounted to 1.75 trillion yuan, an increase of 10.78 percent year on year, while deposits of non-financial enterprises stood at 920.855 billion yuan, up 12.91 percent over the same period last year.
Meanwhile, the province's short-term loan balance was 658.753 billion yuan, while the growth rate of medium-and long-term loans increased steadily, with the loan balance totalling 2.46 trillion yuan, up 14.32 percent year on year.
(Edited by Jiang Feifan with Xinhua Silk Road, 346129473@qq.com)