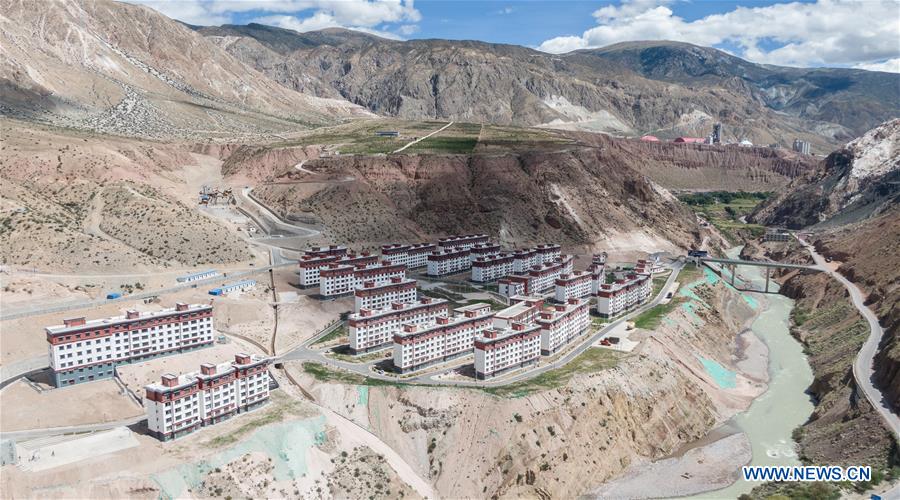 Aerial photo taken on Sept. 19, 2020 shows the Xiba poverty-relief relocation site in Baxoi County, Qamdo, southwest China's Tibet Autonomous Region. A cement brick factory near the Xiba poverty-relief relocation site in Baxoi County has offered vocational training and job opportunities to residents from 657 registered impoverished households. Since April, nearly 200 people have attended brick-making training sessions here. (Xinhua/Jigme Dorje)
BEIJING, Oct. 29 (Xinhua) -- China's cement industry is setting off a new wave of intelligent manufacturing, reported Shanghai Securities News Thursday quoting an industry executive.
Technologies like 5G, big data, artificial intelligence, cloud computing and Internet of Things (IoT) are bound to collide with the cement industry and create new sparks, said Shao Jun, chairman of Cement.com, a cement information platform in China.
Shao made the remarks at a forum on intelligent development of China's cement industry held Wednesday in Luoyang, a prefecture-level city in central China's Henan Province.
Intelligent manufacturing is the only way for the cement industry to grow from big to strong, noted Liu Zonghu, deputy general manager with China United Cement Corporation (CUCC).
Actually, intelligent development is fully penetrating every link of the cement production, reshaping the sector.
The CUCC Henan Operation and Management Zone has advanced the transformation and upgrading focusing on green, intelligent and circular development. Besides, as a model enterprise in green and intelligent development, the Luoyang CUCC Co., Ltd. has already realized green development.
Many enterprises in fields such as cement, industrial robots, control systems, industrial communications, machine vision and automation equipment attended the forum, discussing topics covering digital mines, smart factories, intelligent transportation and other key links regarding intelligent development of the cement industry. (Edited by Gu Shanshan with Xinhua Silk Road, gushanshan.1987@163.com)