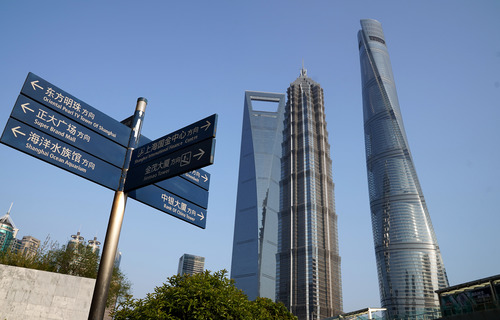 BEIJING, Oct. 29 (Xinhua) -- China International Import Expo (CIIE) has become an important platform for China to attract investment and promote industrial upgrade, reported the Xinhua-run Shanghai Securities News quoting Zou Lei, official with Shanghai Party Institute of CPC.
CIIE foreign participants, such as Decathlon, Danaher, Danone, Siemens, etc, are eagerly awaiting the annual event, which opens more windows for them to increase their investment in China.
--Foreign enterprises continue to increase investment in China
It is learned that during the 3rd CIIE, Decathlon will hold the signing ceremony with Geek+, the global leading company in logistics robot, to further its investment in China's new retail market.
Good news also came from Danaher that its factory in Suzhou Industrial Park will hold the inauguration ceremony at the end of the year. In July this year, Danaher invested over 100 million U.S. dollars to establish a new R&D manufacturing base and a brand new experience center in Suzhou Industrial Park.
Wei Chunyan, vice president of public affairs of Danaher China said, this year marks the third consecutive year for the company to participate in CIIE and the company is to unveil its all-round solutions for battling against COVID-19 and other world top black technologies.
As an old friend of CIIE, the world leading office- and space-as-a-service provider, WeWork announced in late September that it would further invest 200 million U.S. dollars in WeWork China to help with its full localized operations.
Seizing the opportunities in China's quick economic bounce, Danone again invested another 100 million euros in China since the beginning of this year, including the establishment of special nutrition production bases in Qingdao and Wuxi, as well as the Danone open science research center for life-transforming nutrition in Shanghai.
Siemens is seeking deepened cooperation with Chinese enterprises in an all-round manner. In July this year, Siemens Energy Co., Ltd. registered in Shanghai Waigaoqiao Free Trade Zone, gained another capital increase of 3.8 billion yuan, raising the total registered capital to 4.1 billion yuan. Recently, Siemens Mobility announced its cooperation agreement signed with Chongqing Liang Jiang New Area and established its first intelligent traffic 5G capability center in China to explore innovative R&D of intelligent traffic in the age of 5G.
--Influx of high-quality foreign brands helps accelerate consumption upgrade in China
In addition to investment projects, lots of high-quality foreign brands entered China's market and promoted China's consumption upgrade.
Since last CIIE, Danone has introduced nearly 40 products coming from different countries such as Germany and France, into China's market, and nearly a quarter of them became star products winning wide praise among consumers.
Taking advantage of the "CIIE effect", Danone greatly improved its efficiency in the debut of new products and further developed its sales channel, said Zhou Zhigang, vice president of Danone Greater China, adding that the same products with CIIE became the favorite for dealership partners and consumers.
To L'Oreal, CIIE has become the accelerator to introduce new products and make viral products. Since its first participation in CIIE in 2018, L'Oreal has introduced 5 of its global products into China's market, including Saint-Gervais Mont Blanc, CeraVe and 3CE.
The latest news noted that all five new major brands under L'Oreal will land on the CIIE venue and meet Chinese consumers for the first time, and it is the first time to have so many L'Oreal brands in CIIE. Chinese consumers can access global beauty fashions at "zero distance".
--CIIE creates domestic and international dual circulation
Many participating enterprises utilize CIIE platform to enter China's market. By integrating international and domestic demands, CIIE creates the domestic and international dual circulation.
CIIE is not only a global celebration, but also an important window where enterprises participate in and share the opportunities brought by China's economic growth, said Zhou Zhigang.
A senior personnel with Shiseido said the company learned about the openness and tolerance of China's market from the last CIIE and it will introduce more high-end imported brands to further increase its investment in China in the future.
According to Zou Lei, CIIE promotes further investment of transnational companies in China and attracts many quality exhibition products and investment projects to further integrate with China's industrial ecology.
CIIE can also help optimize China's trade structure and promote the interconnection between trade and investment, said Zou, adding that in particular, CIIE can promote foreign trade enterprises to formulate the overseas layout on the basis of satisfying domestic demands, better realize "global purchase and sale" and achieve domestic and international dual circulation.
(Edited by Yang Yifan with Xinhua Silk Road, yangyifan@xinhua.org)