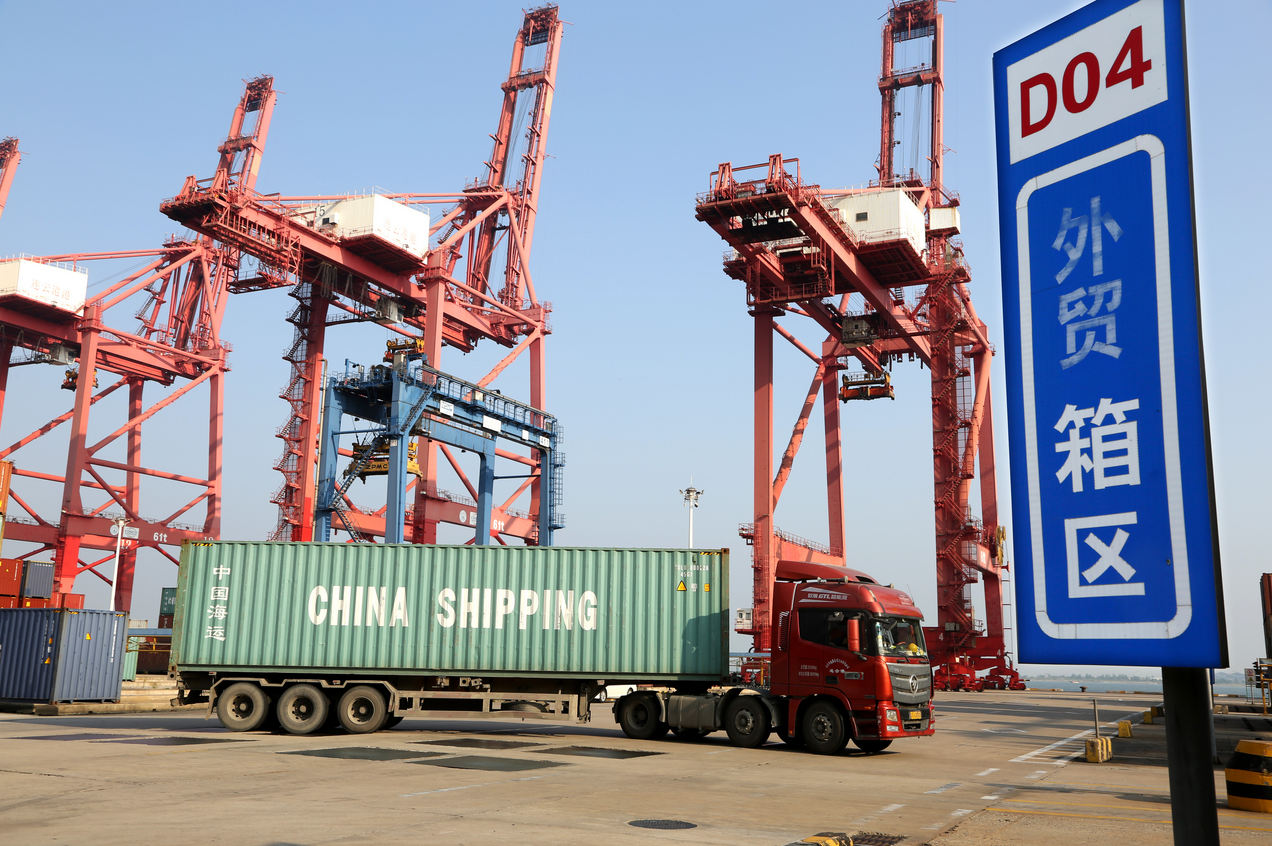 BEIJING, Oct. 28 (Xinhua) -- In the first three quarters of 2020, China has made remarkable achievements in foreign trade and economic corporation, showed by the steady recovery curves quarter by quarter and the cumulative growth rate from negative to positive.
In September, particularly, both foreign trade and foreign investment recorded double-digit growth.
Facing the grim economic situation in the world, China's determination and actions to expand reform and opening-up have contributed to global economic recovery, demonstrating China's sense of responsibility as a major power.
Since the beginning of the fourth quarter, relevant departments have made dense deployments and a series of big favorable policies are expected to be issued. In addition, the implementation of a number of major foreign investment projects as well as the host of some international economic and trade events will add momentum to global trade and investment.
-- Larger amount and better structure in foreign trade and investment
In the first three quarters of 2020, China's actual use of foreign capital reached 718.81 billion yuan, with an increase of 5.2 percent over the same period of last year, suggesting positive inward investment in both USD and RMB for the first time this year, said Zong Changqing, director of Department of Foreign Investment Administration of the Ministry of Commerce (MOC).
In addition to the growing aggregate investment, the investment structure has also been further optimized. From January to September, the actual use of foreign capital in the service sector increased by 15 percent year on year, accounting for 77.9 percent of China's total actual use of foreign capital, in which the high-tech service sector grew by 26.4 percent year on year.
Meanwhile, the import and export of goods, which is another important indicator of foreign trade and economic corporation, also showed steady recovery curves in both quantity and quality. In the first three quarters, the total value of import and export of goods reached 23.12 trillion yuan, increasing by 0.7 percent year on year, turning the cumulative growth rate from negative to positive.
Structurally, a series of indicators suggested that trade is moving towards a higher quality. In the aspect of international market layout, China's import and export with Association of Southeast Asian Nations (ASEAN) increased by 7.7 percent, making ASEAN China's largest trade partner. At the same time, China's import and export with countries along the Belt and Road grew by 1.5 percent and its export to traditional markets in Europe and the U.S. witnessed active recovery.
China's good performance in foreign trade should be attributed to China's effective epidemic control and production and work resumption, which ensures normal operation of enterprises. Meanwhile, China has witnessed super-large market dividends, intensified competitiveness of enterprises and improved industrial chain and supply chain system, which has promoted growth of foreign trade and economic cooperation despite the adverse impact of the COVID-19, said Pang Chaoran, associate researcher of Chinese Academy of International Trade and Economic Cooperation under MOC.
-- Further opening-up for more international cooperation
In addition to the accelerated recovery of various indicators, new opening-up measures have also been implemented at a faster pace.
According to Zong, China is now accelerating revision and release of the Catalogue of Encouraged Foreign Investment Industries, in order to expand the scope of preferential policies for foreign investment.
Meanwhile, the National Development and Reform Commission (NDRC) is boosting foreign investment project reserves. The application work for subsequent major foreign investment projects at the national level will be launched at the appropriate time and there will be more breakthroughs in foreign investment access in Hainan Free Trade Port, said Meng Wei, deputy director of Policy Studies and the spokesperson of the NDRC.
Furthermore, China is also actively building platforms to share market opportunities during its development with the world through a series of international economic and trade fairs, such as Canton Fair, China International Fair for Trade in Services (CIFTIS) and China International Import Expo (CIIE).
Against the backdrop of global economic downturn, conducting opening-up and cooperation platforms will help domestic and foreign enterprises to better interact and communicate with each other and create more opportunities for cooperation and development, according to Pang.
-- Foreign trade and economic corporation to reach new heights
Continuous recovery and favorable policies have further consolidated China's foreign trade and economic corporation prospects. According to industry insiders, the foreign trade and investment are expected to make more breakthroughs in the fourth quarter.
According to Zong Changqing, a series of achievements have once again proved that there is no change in the attractiveness of China's super-large market for foreign investment, the comprehensive competitive advantages in industrial supporting facilities, human resources and infrastructures, and the expectation and confidence of foreign investors in long-term investment and operation in China.
China has the comprehensive advantage, namely the world's largest manufacturing system with the most complete categories and the best-established supporting equipment, as well as the super-large scale market advantage. The long-term upward trend of China's foreign trade development has not changed. China is fully confident and capable of stabilizing foreign trade and foreign investment, according to the head of Foreign Trade Department of the MOC.
(Edited by Gao Jingyan with Xinhua Silk Road, gaojingyan@xinhua.org)