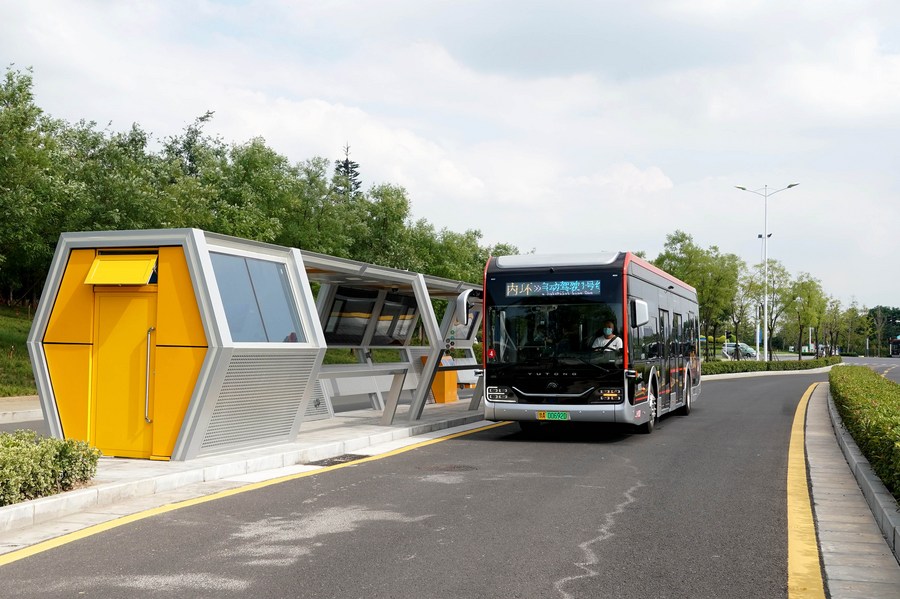 A self-driving bus of autopilot bus line 1 runs in Zhengzhou, central China's Henan Province, Aug. 18, 2020. (Xinhua/Li An)
BEIJING, Oct. 21 (Xinhua) -- Multiple regions in China have recently clarified financial support plans with the aim to expedite investment expansion and high-quality development of the artificial intelligence (AI) industry, reported Economic Information Daily Wednesday.
On October 20, the revised policies on developing AI industry in the China (Shanghai) Pilot Free Trade Zone Lin-gang Special Area were issued, clarifying to provide up to 100 million yuan of funds to support key technology innovation, scale development of enterprises and in-depth integration of production, study and research in AI industry.
North China's Tianjin Municipality recently proposed to support the construction of major projects and platforms in the national new-generation AI innovation and development pilot zones, and provide 30 percent of the total project investment and up to 10 million yuan of capital support to eligible projects and platforms.
Jinan, capital city of east China's Shandong Province, recently introduced a plan for the Jinan national new-generation AI innovation and development pilot zone construction, proposing to provide financial subsidies based on 30 percent of the actual total investment for leading companies that develop key AI application scenarios, and up to 3 million yuan of financial subsidies to leading companies selected for national AI application scenarios.
AI is becoming a driving force to promote industrial optimization and upgrading and overall productivity rise in China.
According to related research by the China Electronic Information Industry Development Research Institute (CCID) directly under the Ministry of Industry and Information Technology (MIIT), China's AI market will keep a growth rate of 30 percent in size which will exceed 80 billion yuan by 2021. (Edited by Gu Shanshan with Xinhua Silk Road, gushanshan.1987@163.com)