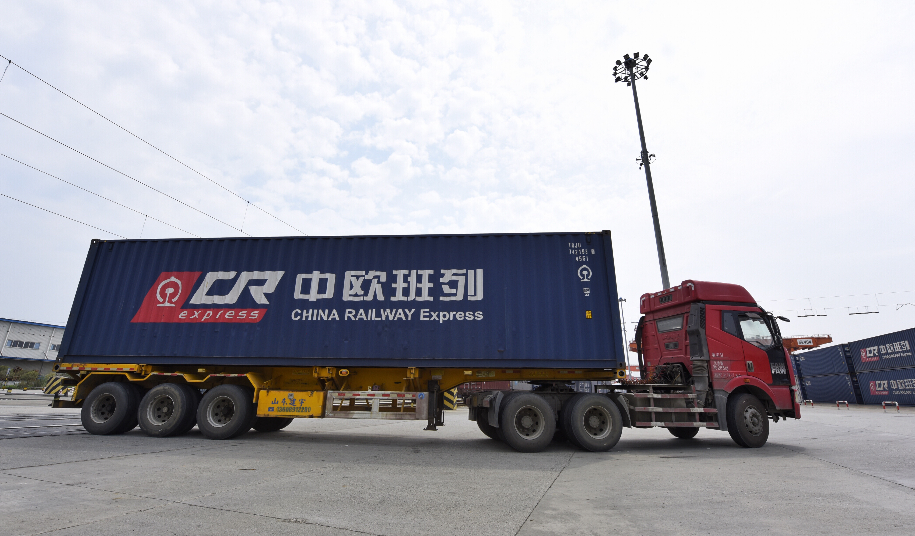 Photo: China-Europe freight train promotes the trade with the countries along the Belt and Road routes.
BEIJING, Oct. 20 (Xinhua) -- Northwest China's Gansu Province has actively participated in the Belt and Road construction, with robust trade exchanges with the countries along the routes, according to the local newspaper on Monday.
Data from the Department of Commerce of Gansu Province show that from 2016 to the end of August this year, Gansu achieved a total of 80.27 billion yuan (about 12.02 billion U.S. dollars) in trade with the countries along the Belt and Road routes. In breakdown, its imports and exports with these countries amounted to 20.12 billion yuan in 2019, an increase of 3.5 percent, accounting for 53 percent of the province's total import and export value.
Meanwhile, the province has set up 12 commercial representative offices in countries and regions along the Belt and Road, and 111 overseas warehouses, wholesale centers and other marketing outlets in Kazakhstan, Russia and other countries to improve the international marketing service system.
Since the beginning of the 13th Five-Year Plan period from 2016 to 2020, Gansu has made efforts to promote construction of the comprehensive cross-border e-commerce pilot zones.
For example, China (Lanzhou) Cross-border E-commerce Comprehensive Pilot Zone has seen 103 cross-border e-commerce companies settle in. In 2019, the transactions were nearly 300 million yuan, a year-on-year increase of 313 percent. In the first half of the year, the zone achieved imports and exports of 82.06 million yuan, an increase of 15.5 times over the same period last year.
Meanwhile, Tianshui city in southeast Gansu Province has been also approved to launch a cross-border e-commerce comprehensive pilot zone. (Edited by Hu Pingchao with Xinhua Silk Road, hupingchao@xinhua.org)