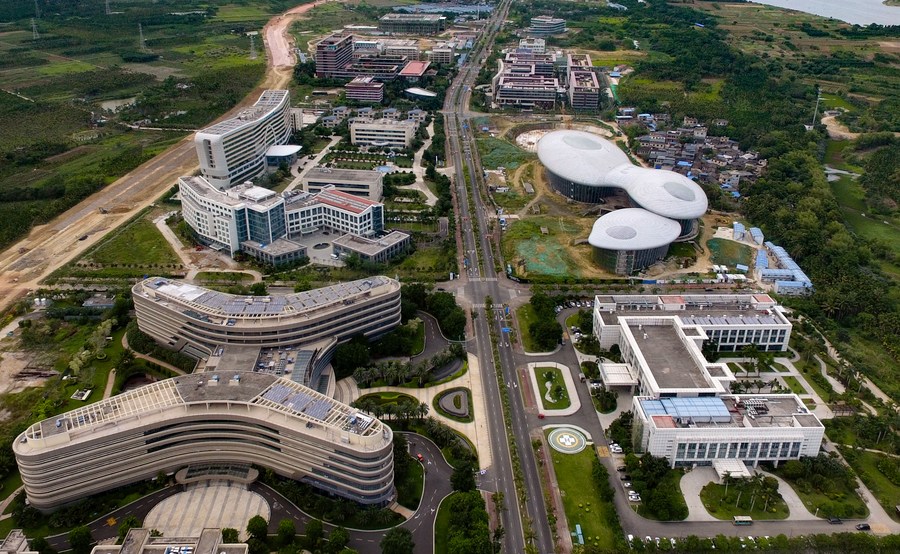 Aerial photo taken on April 3, 2020 shows a view of Hainan's Boao Lecheng pilot zone of international medical tourism in south China's Hainan Province. (Xinhua/Guo Cheng)
BEIJING, Oct. 16 (Xinhua) -- South China's Hainan Province recently introduced 31 measures in 11 key areas such as starting a business, obtaining credit loans, facilitating cross-border trade and talent flow, in an effort to improve its business environment and fuel the construction of Hainan free trade port, according to an action plan released on the website of Hainan government on Thursday.
Hainan will further deepen the reform of streamlining administrative procedures for starting a business. Enterprises in certain pilot sectors in the Yangpu economic development zone, Boao Lecheng pilot zone of international medical tourism, Haikou Jiangdong New Area, and Sanya Yazhou Bay sci-tech park can carry out business activities if they have been granted with a business license and make qualified commitments, without the need to go through other procedures.
The island province will set up a secured credit loan mechanism featuring government-bank-bonding company collaboration to provide long term loans to small and medium-sized technology companies and specialized innovative enterprises selected by the government.
In key sectors such as tourism, modern service and high-tech industry, Hainan will explore an industrial chain secured loan mode so as to upgrade financial services and address the financing difficulties of enterprises.
To facilitate cross-border trade, Hainan will further advance construction of a single window to provide international trade-related services. It will also promote the "two-step declaration" of imported goods and further reduce the time for declaration preparation and customs clearance.
In terms of talent flow, Hainan will optimize international talent evaluation mechanism with income as the major index in assessing the types of human resources, implement negative list management on the work permit of foreign talents who work in the Hainan free trade port, and expand the visa free entry channels for foreign talents in high-end industries.
Hainan has taken a series of measures to optimize its business environment in recent years. On June 1, a master plan on building the province into a globally influential high-level free trade port by the middle of the century was released, attracting more domestic and overseas investors to start businesses in Hainan.
With supporting policy packages, as of October 13, the free trade port has landed 140 plus major projects including those engaging Fortune Global 500 enterprises and domestic giants, covering sectors such as tourism, modern service and high-tech industries. (Edited by Su Dan with Xinhua Silk Road, sudan@xinhua.org)