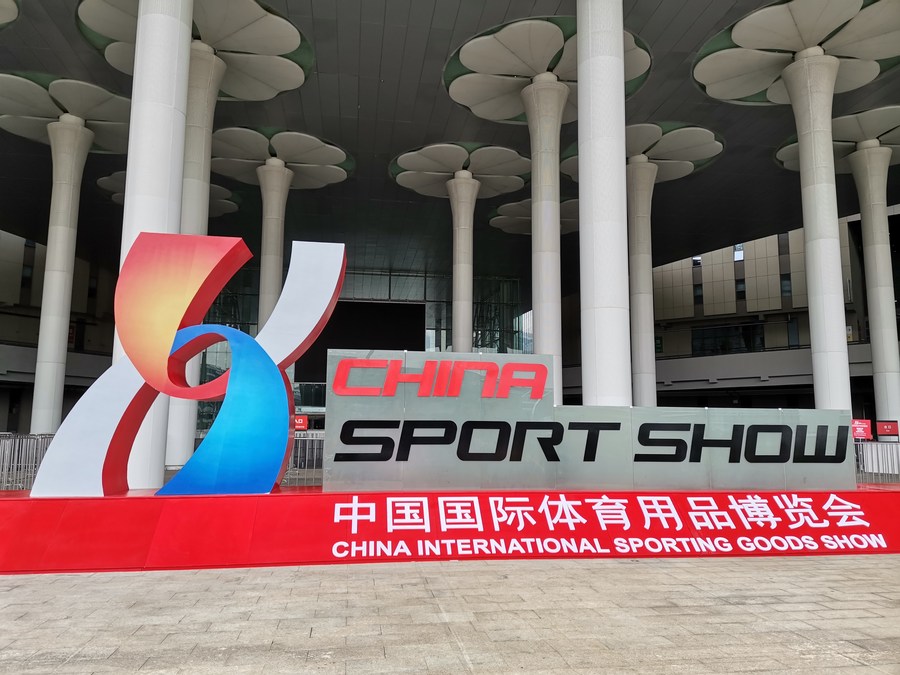 The 2020 China International Sporting Goods Show starts in Shanghai on September 28. (China Sporting Goods Federation)
BEIJING, Oct. 15 (Xinhua) -- China's sports industry is developing quickly towards the intelligent direction driven by the special market environment caused by the COVID-19 pandemic, reported Economic Information Daily Thursday.
With the accelerated recovery of social consumption and production environment in China, home fitness is developing rapidly, online sports industry is gradually taking shape, and new technology has begun to be applied in a large scale, making the new features of China's sports industry in 2020.
According to a survey by the China Sporting Goods Federation, since March this year, the sales of home fitness equipment such as treadmills, rowing machines, yoga mats and dumbbells have exploded.
Data from the Chinese retail giant Suning.com showed that the sales of home fitness equipment in China in the first half of this year had increased by 269 percent year on year, with the sales of dumbbells, hula hoops and yoga mats growing by 500 percent, 391 percent and 332 percent respectively year on year.
Intelligent development has become a major trend in this year's sports goods manufacturing market, and high-tech-supported personalized products has entered consumers' vision.
The improvement of fitness facilities has become an important area of digital new infrastructure, and the scientific and intelligent supply of public sports services is accelerating in an all-round way, especially in the upgrading of smart fitness facilities, the information construction of large stadiums, and the construction of national fitness information platforms, said Liu Fumin, director of the Department of Sports Economics of the General Administration of Sport of China.
Liu noted that the intelligent and on-line sports participation modes such as live broadcast of fitness, online training and events are also developing rapidly, particularly during the epidemic.
The sports goods manufacturing sector is actively taking user needs and technologies into account while pursuing integrated, personalized and intelligent development. Besides, multiple vertical segments of the sports industry, including stadium seats, have also begun to make attempts to meet the needs of the market and the public.
Currently, competition performance industry, fitness and leisure industry, event organization, content broadcasting, and fitness participation experience modes in China are all undergoing profound changes, stepping towards digital, information and intelligent development. (Edited by Gu Shanshan with Xinhua Silk Road, gushanshan.1987@163.com)