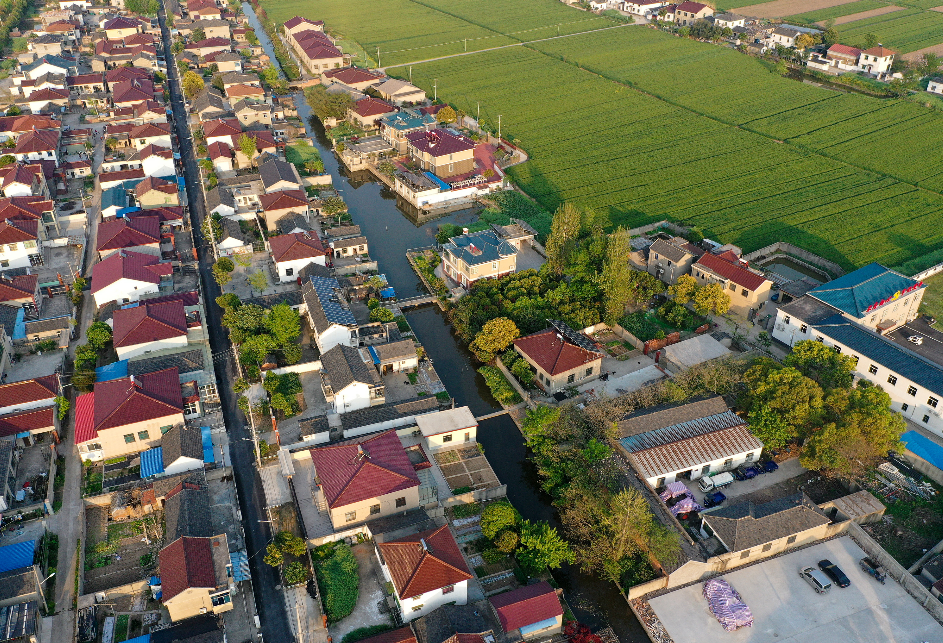 Aerial photo taken on April 13, 2020 shows Yongmaoxu Village under Shiye Town in Dantu District of Zhenjiang City, east China's Jiangsu Province. Yongmaoxu Village actively promotes the development of beautiful and livable village, with ecological progress as the guiding principle, environmental protection as the prerequisite, and green development as the core. (Xinhua/Han Yuqing)
BEIJING, Oct. 14 (Xinhua) -- China will strive to further promote development of the environmental protection industry in the 14th Five-year Plan period from 2021 to 2025, according to Vice Minister of Ecology and Environment Zhuang Guotai at an eco-environment industry summit on Tuesday.
The country will increase capital investment and strengthen financial guidance in the environmental protection industry, and improve the ecological environment standard system to force the environmental protection market players to increase efficiency. The authorities will introduce and implement favorable policies related to fiscal, tax, and price to support development of environmental protection enterprises, said Zhuang.
Statistics show that the domestic environmental protection industry achieved about 1.78 trillion yuan (about 263.97 billion U.S. dollars) of operating income in 2019, an increase of 11.3 percent year-on-year. The country's low-emission technologies such as precipitator and bag filter have also reached the international advanced level.
According to a report released recently by the Department of Science, Technology, and Finance under the Ministry of Ecology and Environment and the China Association of Environmental Protection Industry (CAEPI), the domestic environmental protection industry is expected to have an operating income between 1.6 trillion yuan and 2 trillion yuan in 2020. The scale of the environmental protection industry is projected to exceed 2 trillion yuan next year.
Earlier in July, a company focused on raising funds for green development projects nationwide was put into operation in Shanghai, east China, with a total registered capital of 88.5 billion yuan.
The funds raised by the company will be directed to investment fields such as pollution control, ecological restoration, afforestation of national land, conservation of energy and resources, green transportation and clean energy. (Edited by Hu Pingchao with Xinhua Silk Road, hupingchao@xinhua.org)