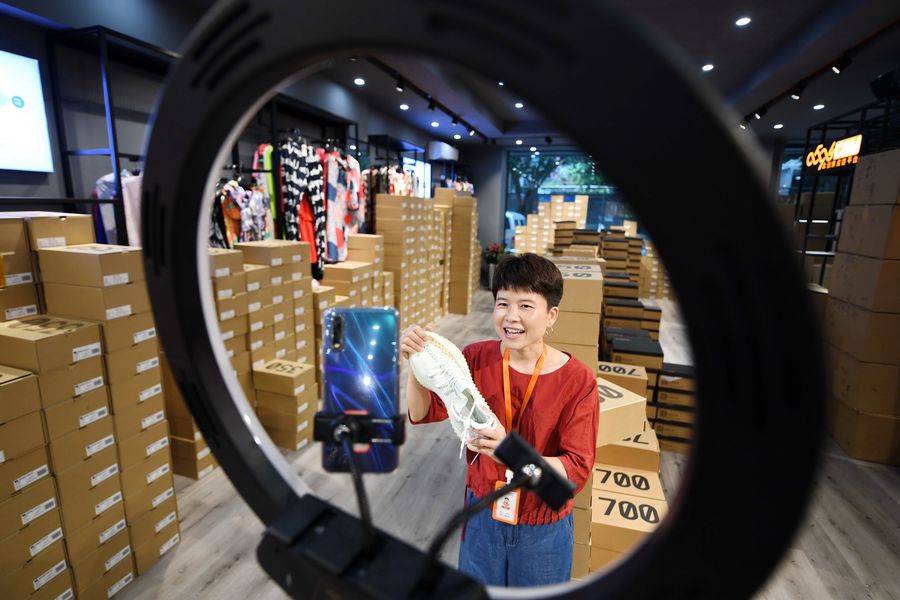 A staff sells shoes through live streaming at an e-commerce warehouse in Putian, southeast China's Fujian Province, May 7, 2020. (Xinhua/Lin Shanchuan)
BEIJING, Oct. 12 (Xinhua) -- Taobao Tejia, a dedicated app to target China's lower-end users who are more price-sensitive, officially launched a new shopping festival last Saturday.
The app run by China's e-commerce giant Alibaba aims to provide quality goods to users nationwide at a relatively low price through the festival.
The festival, featuring "one yuan, shipment included", runs from Oct. 10 to Nov. 11 when the Singles' Day shopping festival, China's Black Friday, kicks off.
The festival will connect 1.2 million retailers in 145 industries, and 500,000 factories with millions of e-commerce users in China through a consumer-to-manufacturers (C2M) model, which enables consumers to buy quality products at a lower price.
The C2M business model powered the meteoric rise of Pinduoduo, a Nasdaq-listed startup offering group-buying deals, and has been adopted by rivals like JD.com and Netease's Yanxuan.
Alibaba stepped up its C2M strategy by launching the Taobao Tejia in 2018. The app has once ranked the most-downloaded app in the e-commerce category in the Apple Store.
Data showed that the number of monthly active users (MAU) of Taobao Tejia had exceeded 55 million as of the end of August, which is equivalent to doubling every 20 days.
The one-yuan festival brings more quality products to the country's less developed regions, as well as provides consumer insights to the up-stream manufacturers in real-time, thus improving flexibility and adaptability of conventional manufacturing, said Wang Hai, general manager of Taobao's C2M business unit.
(Edited by Li Shimeng, Hu Pingchao with Xinhua Silk Road, lishimeng@xinhua.org, hupingchao@xinhua.org)