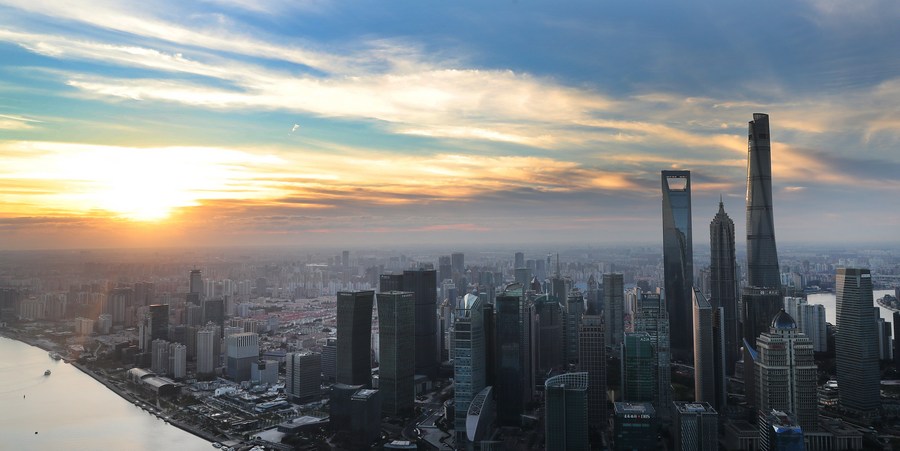 Photo taken on Nov. 1, 2018 shows the Lujiazui area at sunrise in Shanghai, east China. (Xinhua/Fang Zhe)
BEIJING, Sep. 28 (Xinhua) -- The Chinese capital market has become one of the most attractive capital markets around the globe, reported China Securities Journal Monday quoting a Chinese official as saying.
Against the backdrop of global excess liquidity and extremely-low or even negative interest rates of major economies, China's current round of financial opening up is deeper, broader and more vigorous, and the country is taking a firmer stance, said Qiu Yong, director of the Institution Department with the China Securities Regulatory Commission, at an asset management summit held recently in Shanghai.
The financial system, with capital markets in particular, plays a crucial role in promoting cross-border investment and financing, global optimal allocation of related factor resources, and virtuous circle of domestic and international economy, Qiu noted.
He believed that the financial sector would play a bigger role in pushing forward the global economy to effectively respond to the COVID-19 pandemic and recover rapidly.
In the long run, China remains one of the countries with the fastest growth, and the resilience and potential of the Chinese economy can create development opportunities for other countries and regions, he said.
He hopes that internationally renowned investment banks and wealth management institutions can come to China to jointly promote the Chinese capital market to make progress in corporate governance, compliance operation, internal control, risk management and talent training, so as to achieve win-win results. (Edited by Gu Shanshan with Xinhua Silk Road, gushanshan.1987@163.com)