China and Singapore signed a Memorandum of Understanding (MOU) for cooperation on the Belt and Road Initiative (BRI) during the first Belt and Road Forum for international cooperation in March 2017.
The China-proposed Belt and Road (B&R) Initiative is "positive" for Asian countries, according to Singaporean Prime Minister Lee Hsien Loong.
The initiative was a "coherent framework" within which the Asian countries could participate in, Lee said, adding that the initiative means infrastructure, financing and connectivity.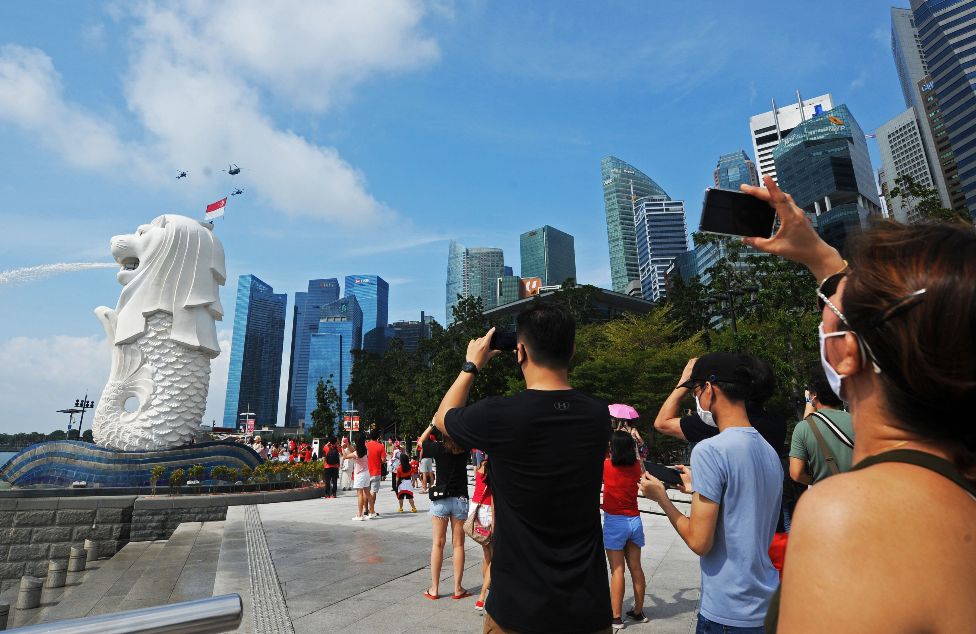 Photo: People watch aircrafts flying by during the National Day celebrations at the Merlion Park in Singapore, Aug. 9, 2020. Singapore celebrated its 55th National Day on Aug. 9. (Xinhua/Then Chih Wey)
Singapore, city-state located at the southern tip of the Malay Peninsula, about 85 miles (137 kilometres) north of the Equator. It consists of the diamond-shaped Singapore Island and some 60 small islets; the main island occupies all but about 18 square miles of this combined area. The main island is separated from Peninsular Malaysia to the north by Johor Strait, a narrow channel crossed by a road and rail causeway that is more than half a mile long. The southern limits of the state run through Singapore Strait, where outliers of the Riau-Lingga Archipelago—which forms a part of Indonesia—extend to within 10 miles of the main island.
Singapore is the largest port in Southeast Asia and one of the busiest in the world. It owes its growth and prosperity to its focal position at the southern extremity of the Malay Peninsula, where it dominates the Strait of Malacca, which connects the Indian Ocean to the South China Sea. Once a British colony and now a member of the Commonwealth, Singapore first joined the Federation of Malaysia on its formation in 1963 but seceded to become an independent state on August 9, 1965.
--Land
Nearly two-thirds of the main island is less than 50 feet (15 metres) above sea level. Timah Hill, the highest summit, has an elevation of only 531 feet (162 metres); with other peaks, such as Panjang and Mandai hills, it forms a block of rugged terrain in the centre of the island. To the west and south are lower scarps with marked northwest-southeast trends, such as Mount Faber. The eastern part of the island is a low plateau cut by erosion into an intricate pattern of hills and valleys. These physical units reflect their geologic foundations: the central hills are formed from granite rocks, the scarp lands from highly folded and faulted sedimentary rocks, and the eastern plateau from uncompacted sands and gravels.
--People
The population of Singapore is diverse, the result of considerable past immigration. Chinese predominate, making up some three-fourths of the total. Malays are the next largest ethnic group, and Indians the third. None of those three major communities is homogeneous. Among the Chinese, more than two-fifths originate from Fujian province and speak the Amoy (Xiamen) dialect, about one-fourth are Teochew from the city of Shantou in Guangdong province, and a smaller number are from other parts of Guangdong. The Chinese community as a whole, therefore, speaks mutually incomprehensible dialects. Linguistic differences are less pronounced among the Malays, but the group includes Indonesians speaking Javanese, Boyanese, and other dialects. The Indian group is most diverse, consisting of Tamils (more than half), Malayalis, and Sikhs; it also includes Pakistani and Sinhalese communities.
Because of this ethnic diversity, no fewer than four official languages are recognized—English, Mandarin Chinese, Malay, and Tamil. English remains the main medium for administration, commerce, and industry, and it is the primary language of instruction in schools. Mandarin, the official language of China, transcends dialect barriers, and its use is strongly promoted; one-third of the school population is taught in that language. Malay is designated as the country's national language, and, like English, it is widely used for communication among ethnic groups and plays a particularly useful role in view of the close ties between Singapore and Malaysia.
-- Economy
Singapore, one of the great trading entrepôts of the British empire, has experienced remarkable economic growth and diversification since 1960. In addition to enhancing its position as a world trade centre, it has developed powerful financial and industrial sectors. Singapore has the most advanced economy in Southeast Asia and is often mentioned along with other rapidly industrializing countries in Asia, notably South Korea and Taiwan. Singapore's economy always has differed from those of the other Southeast Asian countries in that it never has been primarily dependent on the production and export of commodities.
Economic development has been closely supervised by the Singaporean government, and it has been highly dependent on investment capital from foreign multinational corporations. The government holds about three-fourths of all land and is the chief supplier of surplus capital, which is derived largely from contributions to the Central Provident Fund (CPF) social-security savings program. In addition, the government has attempted to enhance the value and productivity of labour in order to attract investment and boost export competitiveness. This has been accompanied by a strong commitment to education and health. Labour shortages and rising wages have heightened the push for restructuring the economy even more toward higher value-added production.
The rationale for extensive government intervention in economic development has weakened. Official policy relies on market forces, privatization of government enterprise, and more support for domestic private businesses. Union membership has declined as centralized union structures have been replaced by smaller industry- and enterprise-based unions. Greater reliance has been placed on local labour-management negotiations.
Resources, agriculture, and fisheries
Singapore has few natural resources. There are no natural forests remaining on the island. Only a tiny fraction of the land area is classified as agricultural, and production contributes a negligible amount to the overall economy. Cultivation is intensive, with vegetables and fruits grown and poultry raised for local consumption. The local fishing industry supplies only a portion of the total fresh fish requirement; most of the catch comes from offshore fishing vessels. There also is a small aquaculture industry that raises groupers, sea bass, and prawns. Singapore is a major exporter of both orchids and aquarium fish.
Industry
Since the late 1960s Singapore has pursued a general policy of export-oriented industrialization. In order to attract foreign investment, the economy was liberalized, and a series of incentives were provided to multinational corporations; chief among these was the establishment of free trade zones. Gradually, production has been diversifying from such labour-intensive industries as textiles to high-technology activities like the manufacture of electronics and precision equipment and oil refining, which yield a much higher added value to production.
Services and tourism
Singapore has been able to emphasize its comparative advantage in knowledge-intensive activities—especially communications and information and financial services—which are less dependent on foreign investment. Higher productivity and research and development are encouraged through schemes that provide investment credits and allowances. An effective economic strategy has been to invest local funds abroad and simultaneously to export management skills. Singapore has sought to recruit skilled people, particularly Chinese from the United States and China (notably Hong Kong).
Finance
Singapore's financial services are highly sophisticated and are available through a wide variety of institutions. There is a growing venture-capital market that offers seed funding to firms that develop or introduce new technology. The government's Monetary Authority of Singapore performs all the functions of a central bank except issuing currency. A focal point of Singapore's growth as an international financial centre has been the Asian Dollar Market, which is essentially an international money and capital market where currencies other than the Singapore dollar are traded. The Development Bank of Singapore is the largest local bank in terms of assets. The Stock Exchange of Singapore is an important component of the financial activity in the region.
Trade
Singapore continues to perform its traditional function as a financial intermediary, shipping raw materials such as rubber, timber, and spices from the Southeast Asian region in exchange for finished goods from both within and, especially, outside the region. Major imports are machinery and transport equipment and crude petroleum, while machinery and refined petroleum products are the major exports. China, the United States, Indonesia, Malaysia, and Japan are Singapore's principal trading partners. Entrepôt activities, where goods are transhipped and sometimes processed or manufactured in the immediate area, account for about one-third of Singapore's export trade. Notable in this capacity has been the oil-refining industry. In an attempt to foster additional trade, Singapore has become a joint-venture partner in numerous projects with Malaysia and Indonesia. Investments in the nearby Indonesian island of Batam have been important in this respect.
Transport
Singapore has one of the world's busiest ports in terms of shipping tonnage. The Port of Singapore Authority oversees all shipping activity and operates a number of terminals on the island. Containerized cargo accounts for more than half of the general-cargo tonnage. The island has a well-developed network of roads and highways, but traffic congestion frequently is a serious problem. In the late 1980s and early 1990s the government opened a light-rail mass-transit system that links the major population centres in the housing estates with employment centres and the central business district. Singapore is linked by rail to Peninsular Malaysia via the connecting causeway at Johor. Singapore's international airport, Changi, at the eastern end of the main island, is a major regional and overseas air hub.
-- Cultural Life
Cultural activities in Singapore are largely derivative, springing from one or another of the major civilizations of China, India, Indonesia, or the West. Traditional Chinese and Indian music, painting, and drama are practiced by numerous cultural societies and professional groups. Popular culture, based on modern mass media, is far more widespread. Malay music, which has adopted the rhythms of Western orchestras, has general appeal. Musical films that popularize Hindi and Tamil songs have a considerable following, as do films from Hong Kong, Taiwan, and the United States.
Several Chinese, English, Indian, and Malay newspapers serve a largely literate population. Magazines published in the West, Hong Kong, and Japan also have wide appeal. The government monitors the press to a certain extent and on occasion places circulation restrictions on periodicals and newspapers that are critical of its policies. The government-owned Singapore Broadcasting Corporation controls all local radio and television broadcasting.
(The above information from Internet)