As the Pacific island countries are located on the geographic extension of the 21st Century Maritime Silk Road, the China-proposed Belt and Road Initiative (BRI) acts as a new platform for cooperation between China and the countries.
According to Samoan Prime Minister Tuilaepa Sailele Malielegaoi, China is not only a heavyweight partner in economic and trade cooperation, but also an important ally in environmental protection.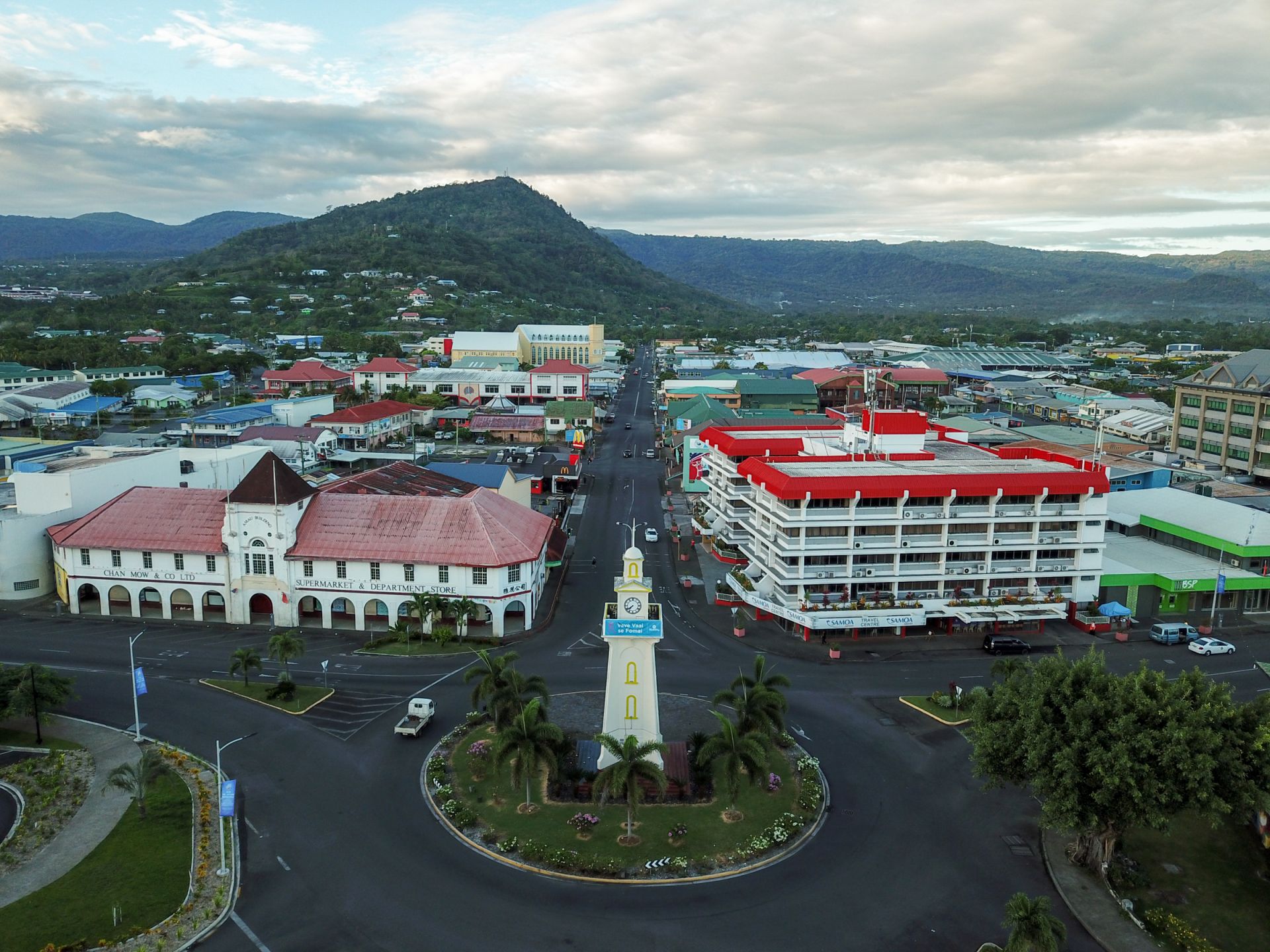 Samoa, country in the central South Pacific Ocean, among the westernmost of the island countries of Polynesia.
According to legend, Samoa is known as the "Cradle of Polynesia" because Savai'i island is said to be Hawaiki, the Polynesian homeland. Samoan culture is undoubtedly central to Polynesian life, and its styles of music, dance, and visual art have gained renown throughout the Pacific islands and the world. The country's international image is that of a tropical paradise inhabited by tourist-friendly flower-wreathed peoples. Yet this belies the economic, social, and political challenges of this diverse and evolving Pacific microstate. Samoa gained its independence from New Zealand in 1962 after more than a century of foreign influence and domination, but it remains a member of the Commonwealth. The country was known as Western Samoa until 1997. Its capital and main commercial centre is Apia, on the island of Upolu.
--Land
Samoa lies approximately 80 miles (130 km) west of American Samoa, 1,800 miles (2,900 km) northeast of New Zealand, and 2,600 miles (4,200 km) southwest of Hawaii.
Savai'i, the largest island, covers 659 square miles (1,707 square km) and rises to a maximum elevation of 6,095 feet (1,858 metres) at Mount Silisili, a volcano at the island's approximate centre. Mounts Māfane, Mata'aga, and Maugaloa are also imposing peaks. Upolu, the other large island, lies about 10 miles (16 km) to the east across the Apolima Strait. Upolu is more elongated and uneven in shape than Savai'i and has lower average elevations. It occupies an area of 432 square miles (1,119 square km), including five offshore islets, and rises to 3,608 feet (1,100 metres) at Mount Fito. Manono and Apolima are smaller islands lying in the strait between the two main islands.
--People
Samoans are mainly of Polynesian heritage, and about nine-tenths of the population are ethnic Samoans. Euronesians (people of mixed European and Polynesian ancestry) account for most of the rest of the population, and a tiny fraction are of wholly European heritage.
--Languages
Samoan is the country's official language; legislative activity is conducted in both Samoan and English as required by the constitution. Samoan is believed to be among the oldest of the Polynesian tongues and is closely related to the Maori, Tahitian, Hawaiian, and Tongan languages. A large number of Samoan words reflect maritime traditions, including names for ocean currents, winds, landforms, stars, and directions. Some verb forms indicate the relative positions of objects, including directions of movement toward or away from the speaker. English is widely spoken as a second language.
--Economy
Close kinship ties within the villages traditionally bound Samoans into a collectivist society, but a cash economy developed following European contact, mainly based on agricultural exports. Tourism, services, and light manufacturing became increasingly important after 1950. Other major sources of capital now include remittances from Samoans living abroad (mainly in the United States and New Zealand), which account for as much as one-sixth of household income, and grants from the United States, the United Nations, the Commonwealth, and other foreign entities.
Agriculture, forestry, and fishing
Agriculture accounts for two-fifths of Samoa's gross domestic product (GDP) and nearly two-thirds of the workforce; however, production does not meet local demand, and large quantities of food are imported. Major crops include coconuts, taro, pineapples, mangoes, and other fruits. Typhoons caused widespread damage in the 1990s to several crops, including taro, which was also devastated by taro leaf blight. Cattle, pigs, and poultry are raised for local consumption. Forestry has made increasing contributions to the economy, partly because of the government's replanting programs. The Samoan fishing industry remains small, based primarily on catches made from outrigger canoes.
Resources and power
Samoa has few natural resources apart from its agricultural lands, surrounding waters, and pleasant scenery and climate; nearly half of the land area is covered by forests. Hydroelectric power provides most of the country's energy needs; petroleum-fired thermal generators account for much of the remainder.
Manufacturing
Samoa's diversified light manufactures include beer, cigarettes, coconut products (mainly creams and oils), corned beef, soap, paint, soft drinks and juices, and handicrafts. Most are produced for local markets. A Japanese-owned electric assembly plant, which opened in the 1990s, is Samoa's leading employer after the national government.
Finance
The currency of Samoa is the tala, which consists of 100 sene ("cents"). The money supply is controlled and regulated by the Central Bank of Samoa, which was established in 1984. Samoa also has several commercial banks. Banking and finance account for only a tiny fraction of employment, although numerous companies have registered in Samoa since offshore banking services were initiated in 1988.
Trade
Samoa has a persistently negative balance of trade. Major trading partners include New Zealand, China, Australia, the United States, and Japan. Food, industrial supplies, machinery, consumer goods, and petroleum products are the main imports. Coconut products, copra, cacao, and beer account for a majority of exports.
Services
Government (including education) and tourism are the foundations of Samoa's service sector. Tourism has been an increasing source of foreign exchange, with a steady supply of visitors from American Samoa and growing numbers from New Zealand, Australia, the United States, and Europe. Popular tourist sites, in addition to Samoa's white-sand beaches, include Mulinu'u, where the parliament and traditional meeting and burial grounds are located; Fuipisia Falls, which descends some 180 feet (55 metres); and Vailima, where the last home of the 19th-century Scottish author Robert Louis Stevenson (and for a time the residence of the head of state) serves as a museum.
-- Culture
Although some Samoan values and customs have changed markedly since European contact, particularly in Apia, Samoans have strived to preserve the fa'a Samoa ("Samoan way of life"); thus, many traditions and outward features of rural life have remained virtually unchanged.
Typical foods, grown or caught locally, include taro, yams, breadfruit, fish, and shellfish. Chicken and pork dishes are also eaten. Imported foodstuffs have become increasingly common, including Asian rice, frozen meats, and packaged foods and beverages from other parts of the world.
(The above information from Internet)