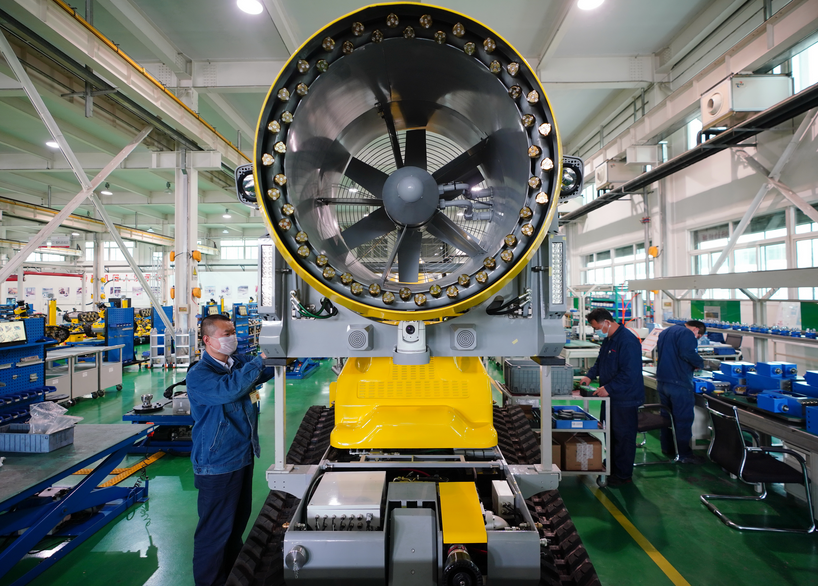 Workers are seen at a specialized robots production workshop at the Tangshan Hi-tech Industrial Development Zone in Tangshan, north China's Hebei Province, April 29, 2020. (Xinhua/Yang Shiyao)
BEIJING, Sept. 18 (Xinhua) -- China's advanced manufacturing industry represented by high-tech manufacturing and equipment manufacturing has been developing rapidly.
In August, the added value of high-tech manufacturing rose 7.6 percent year on year, two percentage points faster than the growth of industries above designated size, according to data released by the National Bureau of Statistics on Tuesday.
Official data also showed that investment in high-tech manufacturing industry increased by 8.8 percent year on year in the first eight months.
A batch of major advanced manufacturing projects were signed and implemented over the past month in many places, focusing on electronic information, intelligent manufacturing, advanced materials and other key areas.
For example, Dongguan city in south China's Guangdong province saw the signing of 216 major projects with a total investment of about 325.5 billion yuan at the Dongguan Global Advanced Manufacturing Investment Promotion Conference held on September 8.
On August 31, 20 advanced manufacturing projects involving an investment of over 10.8 billion yuan were inked in southwest China's Chengdu, covering sectors such as electronic information, intelligent manufacturing, advanced materials, green food and healthcare.
Backing the implementation of projects was the focus of new policies issued by the central and local governments to promote development of the advanced manufacturing industry.
For instance, east China's Zhejiang province recently unveiled an 2020-2025 action plan for implementing the project of manufacturing industrial base reconstruction and industrial chain upgrading, aiming to build a global advanced manufacturing base and achieving more than six trillion yuan of the annual output value of ten sectors including integrated circuit and network communications. (Edited by Su Dan with Xinhua Silk Road, sudan@xinhua.org)