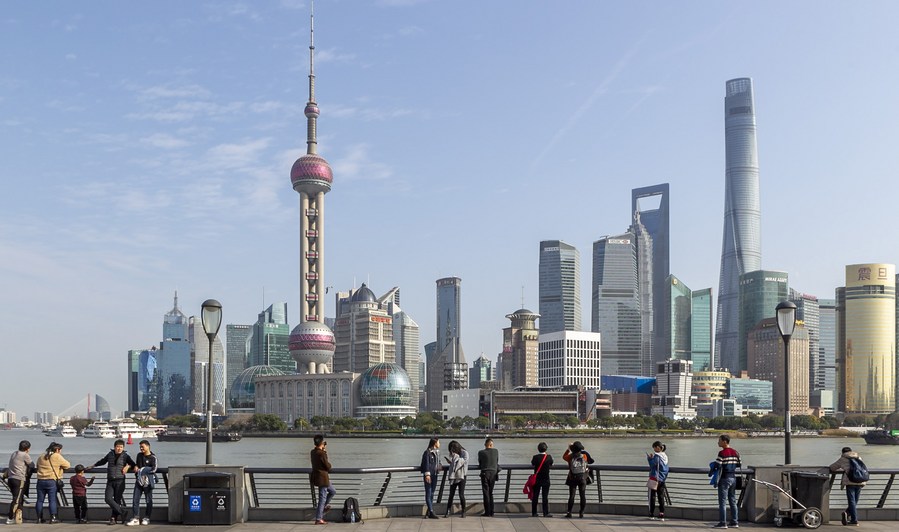 Tourists appreciate the skyline view of Lujiazui area at the Bund in Shanghai, east China, Jan. 6, 2020. (Xinhua/Wang Xiang)
BEIJING, Sep. 17 (Xinhua) -- The National Development and Reform Commission (NDRC), China's top economic planner, is stepping up the revision of Catalogue of Industries for Encouraging Foreign Investment, so as to provide policy support for foreign-funded firms of broader fields, reported Economic Information Daily Thursday quoting an official.
Affected by the COVID-19 pandemic, the global cross-border direct investment has fallen sharply this year, but China has yielded fruitful results in epidemic prevention and control, as well as social and economic development, said NDRC spokesperson Meng Wei at a press conference held Wednesday, adding that China's use of foreign investment has also gradually stabilized.
She noted that from January to August this year, China's actual use of foreign investment was 89 billion U.S. dollars, down 0.3 percent year on year but better than expected.
According to a report released by the American Chamber of Commerce in Shanghai on September 9, most firms are optimistic about the Chinese market, and 78.6 percent of the firms interviewed said that they would not transfer their investment in China, Meng said.
She also noted that according to a report unveiled by the European Union Chamber of Commerce in China on September 10, the investment of EU companies in China is generally stable, and only 11 percent of companies interviewed are considering moving out or changing their investment plans, nearly the lowest level in a decade.
"These data further shows that the confidence of foreign companies in long-term investment and operation in China has not changed." she said.
In order to stabilize foreign investors' confidence in long-term development in China, Meng pointed out that efforts will be made to implement the 2020-version negative list for foreign investment, expand the industry catalogue to encourage foreign investment, better serve foreign-funded projects, and continuously improve the environment for foreign investment. (Edited by Gu Shanshan with Xinhua Silk Road, gushanshan.1987@163.com)