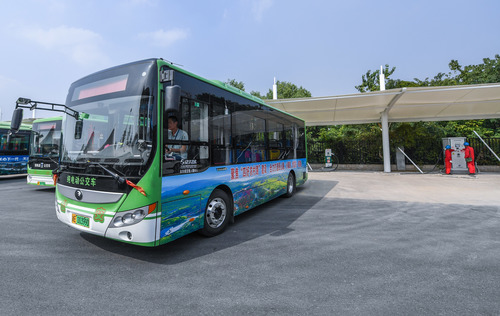 BEIJING, Sept. 17 (Xinhua) -- The operating revenue of China's environmental protection industry expanded to approximately 1.78 trillion yuan in 2019, up 11.3 percent year on year which outpaced the country's GDP growth of 6.1 percent, according to Zhao Yingmin, deputy head of the Ministry of Ecology and Environment.
Such development not only generated significant economic benefits but also produecd good environmental benefits, Zhao said in a State Council's regular policy briefing.
Steady industry growth
China has seen growing market potential unleashed in environmental protection industry in recent years as more efforts being made to ecological environmental protection and treatment, said Zhao.
As a strategic emerging industry, energy conservation and environmental protection industry's fast development is also an important measure China takes for coordinating high-quality economic development and high-level ecological environment protection.
China's environmental protection industry generated about 1.78 trillion yuan of revenue, rising 11.3 percent compared with a year earlier with the growth rate far exceeding the country's overall GDP growth.
Specifically, revenue generated by environment service industry amounted to 1.12 trillion yuan, soaring 23.2 percent on year, according to Zhao.
Operating revenue of some 11,229 enterprises that have been counted in 2019 statistics reached 986.4 billion yuan, up 13.5 percent on year with relevant industry practitioners reaching about 700,000.
Meanwhile, China's environmental technology has seen significant improvement. According to surveys by China Association of Environmental Protection Industry, the R&D expenditure of China's 3,535 key enterprises reached 15.8 billion yuan last year.
Constant innovations have been made in environmental service pattern as well. Third-party governance, environmental performance services, environmental finance and other service modes have seen rapid development, while "Internet+", PPP and ecology-oriented open models have been innovated and applied in the field of environmental governance.
Visible industry achievements
Environmental protection industry has not only driven economic development, but also produced good environmental benefits, Zhao said, noting that three years of efforts have significantly improved the air quality in and around Beijing, Tianjin and Hebei.
Average PM2.5 concentration in autumn and winter has dropped by 32.7 percent, from 104 μg/cu.m to 70 μg/cu.m, with the number of high pollution days dropping by 62 percent, from 37.4 days to 14.1 days on average.
Key environmental protection tasks went on smoothly as well. For example, the transformation of iron and steel industry towards ultra-low emissions has been proceeding orderly; coal-fired boilers in urban built-up areas have basically been eliminated; coal-fired power plants have basically been upgraded to meet ultra-low emission targets; the management of scattered coal in rural areas has been carried out. Also, great progress has been made in "model shift from road to rail", with the freight volume of railways in the Beijing-Tianjin-Hebei region increasing by 26.2 percent over last year.
Moreover, new energy vehicle project is also an important link in the development of environmental protection industry. The number of new energy buses in Chinese cities increased from 116,300 to 409,700 in 2015 to 2019, ranking first in the world with annual fuel savings exceeding 1.6 million tonnes, Zhao noted.
Some environmental protection projects were negatively impacted by the COVID-19 epidemic in the first quarter. However, the overall trend of environmental protection industry remains positive, with sub-sectors seeing rising prosperity, according to analysts with TF Securities.
Following a round of capital expansion, the environmental protection sector seemed entering an "era of streamlining" since 2019, where specified and refined operation becoming one of the major themes in the industry, highlighting opportunities in some sub-sectors, analysts say. (Edited by Niu Huizhe with Xinhua Silk Road, niuhuizhe@xinhua.org)