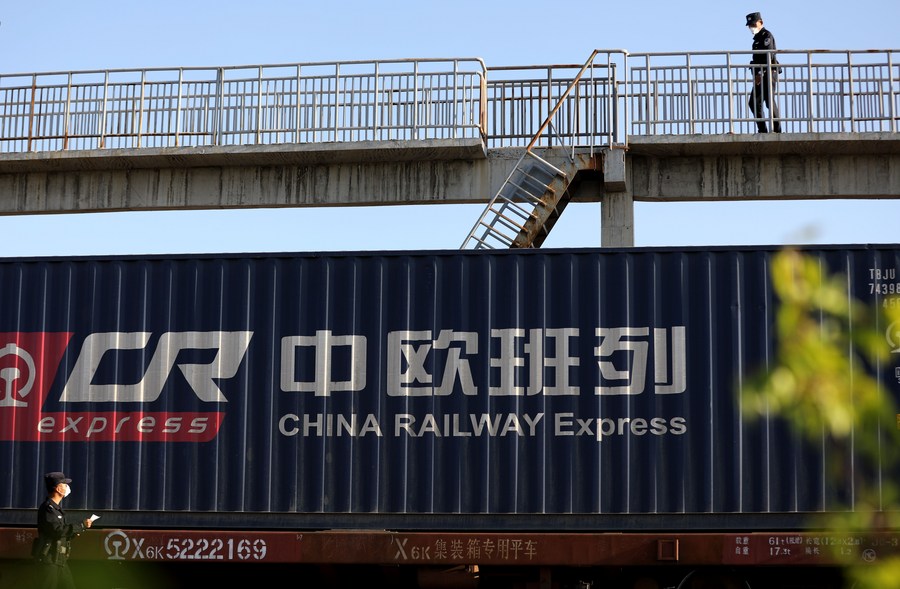 Photo: Policemen checks an outbound China-Europe freight train. (Photo by Zhang Jia/Xinhua)
CHANGCHUN, Sept. 16 (Xinhua) – Northeast China's Jilin Province has seen its cargo volumes by China-Europe freight trains exceed 100,000 tonnes as of September 7 this year, according to the local customs.
The province saw about 19,400 tonnes of goods imported by China-Europe freight trains year to date, while the cargo export volume via such train services were 85,900 tonnes, said the Changchun Customs.
It's learned that Jilin Province has become a transport hub in northeast Asia with a monthly average of 7 inbound trains and 11 outbound trains, connecting 17 provinces in China and more than 10 countries.
As the coronavirus pandemic severely hits international transport, the China-Europe freight trains play a pivotal role in land transport among countries. Under such circumstances, the Changchun Customs has facilitated customs clearance to increase efficiency and help enterprises reduce logistics and transportation costs.
Many Jilin-based enterprises have gained benefits from the efforts. For example, China FAW Group Import and Export Co., LTD said that it took only eight weeks for the company to import 1,000 units of Audi vehicles in 12 batches through the China-Europe freight trains in July.
Yu Hong, vice general manager of the company, said the China-Europe freight trains have greatly contributed to stable global supply chains and industrial chains. (Edited by Li Shimeng, lishimeng@xinhua.org)