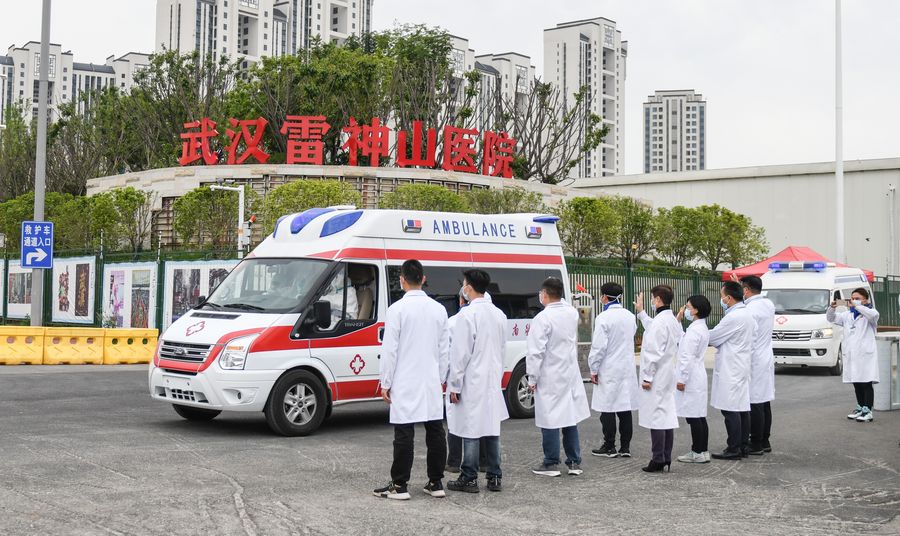 Ambulances, transferring the last batch of COVID-19 patients to other hospitals, leave Leishenshan (Thunder God Mountain) Hospital in Wuhan, central China's Hubei Province, April 14, 2020. (Xinhua/Cheng Min)
BEIJING, Sep. 16 (Xinhua) -- China's construction industry has maintained development in the first half of 2020 despite of the impact of the COVID-19 pandemic, reported Securities Daily Tuesday quoting the consulting firm Ernst & Young (EY).
According to a report released by EY on Monday, a total of 102,712 construction companies in China had carried out construction activities as of the end of June this year, up 10.76 percent year on year.
With the timely and effective control of the epidemic in China, the output value of construction companies in the country has recovered rapidly, said Yang Shujuan, a partner of EY Greater China, adding that COVID-19 has posted limited impact on the sector which had achieved steady growth in the first half of 2020.
According to the report, the value of contracts signed by the construction companies nationwide increased by 7.39 percent year on year to 39.09 trillion yuan from January to June this year, and the newly-signed contracts valued 12.60 trillion yuan in total, up 4.73 percent year on year.
Besides, a total of 11.206 billion square meters of buildings were under construction during this period, an increase of 4.24 percent year on year, noted the report.
Leading construction companies have been actively promoting the work and production resumption since the beginning of February this year, and the completion of Huoshenshan and Leishenshan hospitals and the 16 makeshift hospitals in Wuhan, the center of the epidemic, has not only contributed to the fight against the epidemic, but also promoted the recovery of the construction sector, said Shen Yan, another EY partner.
The investment in new infrastructure has provided strong support for the steady growth of demand in the construction industry, and will also become a new growth point for the development of the construction industry, said Yang Shujuan. (Edited by Gu Shanshan with Xinhua Silk Road, gushanshan.1987@163.com)