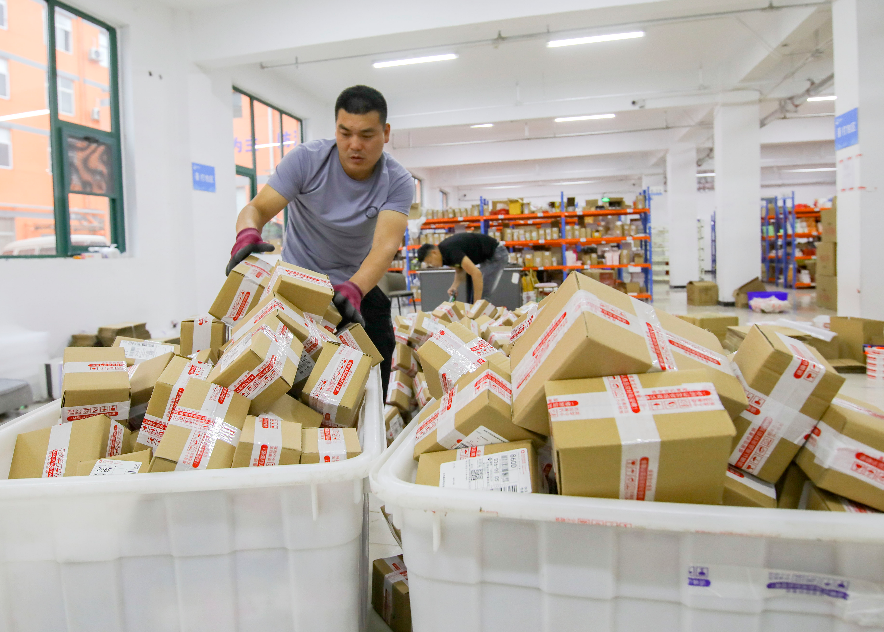 An express delivery company staff checks parcels at an e-commerce business incubator in Lanshan District of Linyi, east China's Shandong Province, May 8, 2020. (Xinhua/Fan Changguo)
BEIJING, Sept. 16 (Xinhua) -- The Chinese authorities have recently unveiled a series of policies to tackle the massive packaging pollution and encourage green packaging of parcels in the express delivery industry, according to the Xinhua-run Economic Information Daily on Wednesday.
Industry insiders pointed out that new regulations on banning or restricting the use of the plastic bags have been frequently issued, and the mandatory standards for the green packaging in the express delivery industry have also been underway, which will accelerate the transformation of the industry towards the green development.
Recently, ten departments including the National Development and Reform Commission (NDRC), China's top economic planner, have held a teleconference on plastic pollution control, stressing establishment of a green supply chain in e-commerce express, chain supermarkets, catering and other fields, and targeting the degradable, recyclable and easy-to-recycle alternatives.
Not long ago, the Ministry of Commerce (MOC) also unveiled a circular to further strengthen control of plastic pollution in the commercial sector and guide the shopping malls, supermarkets and other places to promote the use of environmentally friendly cloth bags, paper bags and other non-plastic products and degradable plastic bags through incentives.
In addition, the State Administration for Market Regulation (SAMR) has also released a guideline to strengthen standardization of green packaging in the express delivery industry, proposing that the mandatory national standards for the harmlessness of the packaging materials in the industry will be formulated and implemented by the end of 2022.
It is reported that regarding packaging waste, most of the raw materials are derived from wood and petroleum. The widely used transparent tapes, plastic bags and other materials for the packaging in the express delivery industry are mainly made of polyvinyl chloride which takes hundreds of years to degrade when buried in the soil, and causes irreversible damage to the environment.
"With the rapid development of the express delivery industry, the use of packaging materials in the industry has increased simultaneously. According to preliminary estimates, the domestic express delivery industry consumes more than 9 million metric tons (tonnes) of paper waste and 1.8 million tonnes of plastic waste annually, showing a rapid growth trend. The impact of packaging waste on the environment cannot be ignored," said an official when responded to the SAMR guideline.
Under such circumstances, the domestic express delivery enterprises have also quickened the pace to adopt the green packaging.
For example, Cainiao Network Technology Co., Ltd. (Cainiao), the logistics unit of Chinese e-commerce giant Alibaba, has piloted the green delivery service in cities such as Beijing, Guangzhou and Hangzhou. When the sender chooses the service, the courier will bring an exclusive eco-friendly bag for the packaging to reduce the packaging pollution. (Edited by Hu Pingchao with Xinhua Silk Road, hupingchao@xinhua.org)