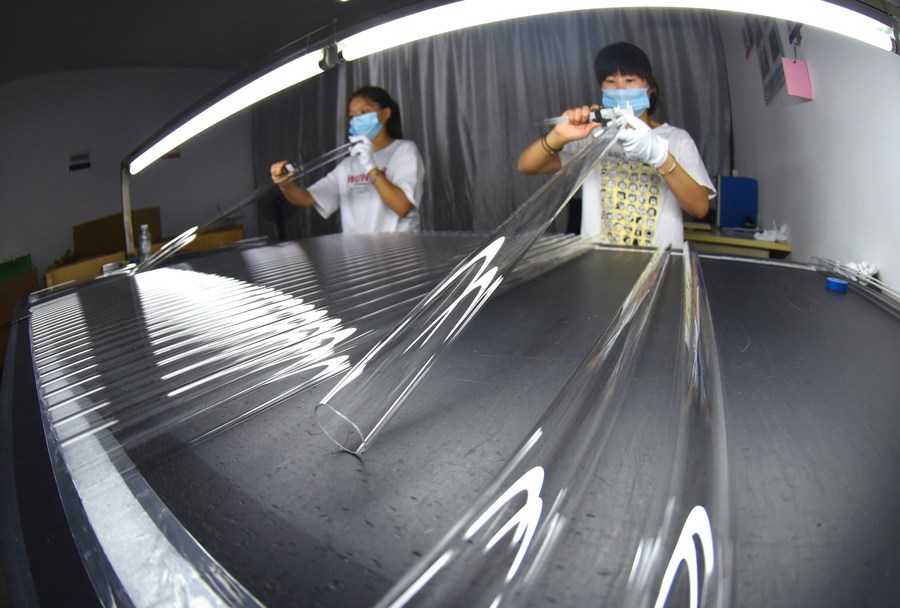 Workers of a quartz glass company check quartz tubes at Jinping industrial park of Haizhou District in Lianyungang, east China's Jiangsu Province, June 30, 2020. (Photo by Geng Yuhe/Xinhua)
BEIJING, Sep. 15 (Xinhua) -- China's manufacturing industry has shown a promising recovery amid the COVID-19 pandemic, and will embrace greater opportunities in continuous high-quality development, reported Shanghai Securities News Tuesday.
China's manufacturing sector is recovering rapidly. In July this year, the added value and the export delivery value of China's electronic information manufacturing industry above designated size increased by 11.8 percent and 10.7 percent year on year, respectively.
In August, China's purchasing managers' index (PMI) stood at 51.0 percent, among which the new orders index registered 52.0 percent, rising for four consecutive months, indicating the continued recovery of the demand in the manufacturing market.
The rapid recovery of China's manufacturing sector has also boosted the country's export growth. In August this year, China's exports increased by 11.6 percent to 1.65 trillion yuan.
This shows the strong resilience of China's manufacturing sector as the "workshop of the world", said Han Jianfei, director of industrial development research with the Institute of Industrial Economics of China Electronic Information Industry Development Research Institute (CCID) under the Ministry of Industry and Information Technology (MIIT).
In order to push the high-quality development of China's manufacturing sector, MIIT has made strong efforts to solve difficulties and risks facing the sector and related enterprises and improve the stability of related industrial and supply chains.
According to Zhang Xiangmu, former director of the Equipment Industry Department with MIIT, China's manufacturing sector is faced with three opportunities, namely the global integration of information technology, biotechnology, new energy technology, new material technology and other technologies, the upgrading of domestic demands, and the sound development conditions in industrial system, human resources, material basis, etc. (Edited by Gu Shanshan with Xinhua Silk Road, gushanshan.1987@163.com)