The United Nations Office for South-South Cooperation (UNOSSC) and the China-Africa Development Fund (CADFund) have published the South-South in Action series of seven case studies showing the great impact made by the CADFund in Africa in advancing the achievement of the UN sustainable development goals (SDGs).
The cases present some of the best practices in South-South and triangular cooperation initiatives and provide a window for Southern partners to learn and recognize the opportunities for collaboration that exist in the South.
As one of the important initiatives of the Forum on China-Africa Cooperation, the CADFund has been committed to serving China-Africa cooperation with a market-oriented approach, giving full play to its financial advantages and guiding role as a platform in the 13 years since its establishment.
The CADFund introduced Chinese enterprises as well as Chinese capital, technologies, production capacity and management experience which help create employment opportunities, increase tax revenues and enhancing productive capacities of Africa.
The second case of this series focuses on a power plant project in Ghana, jointly invested by the CADFund and the Shenzhen Energy Group Company Ltd, which has brought beneficial changes to the local economy and social life.
Ghana: Power Plant Project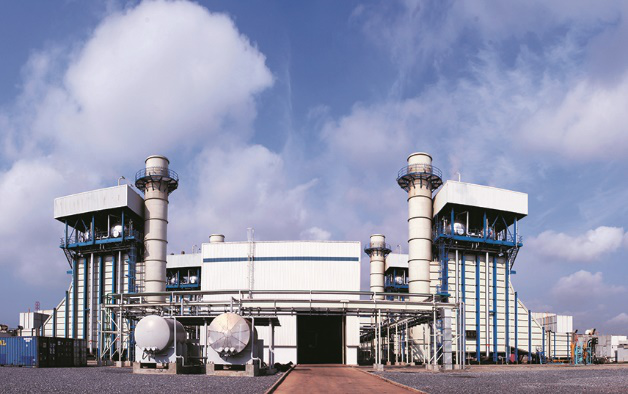 Overview
Most African countries are troubled with power shortages. In Ghana, the power shortage has already severely restricted its economic development. Frequent power cuts have caused a series of problems such as production stagnation, product deterioration and equipment damage, which have resulted in inconvenience to people's lives and negatively affected industrial production.
Against that backdrop, the CADFund and the Shenzhen Energy Group Company Ltd. jointly invested in the construction of a gas combined-cycle power generation project in Ghana in 2008. The investment totaled approximately 800 million U.S. dollars and the funding was offered by CDB.
The Sunon Asogli Power (Ghana) Limited combined-cycle power plant project is the first power production project in Africa fully owned by China; it is also a key project for Ghana's power development. The power plant, which covers an area of 200,000 square meters, is in the city of Tema, about 29 km from Accra, the capital of Ghana. The gas-steam combined-cycle generator has a total planned capacity of 560 MW and represents a total investment of 790 million U.S. dollars. Both phases of the project have been completed and put into operation. The power plant generates 3 billion kilowatt-hours (kWh) of electricity each year, thus providing 20 percent of the electricity needed by Ghana, greatly liberating West Africa from the burden of power shortages.
Operation
The gas-turbine combined-cycle generator unit is a cycle system comprising a gas turbine, a generator, a waste-heat boiler and a steam turbine. It recycles and converts high-temperature flue gas discharged from the working gas turbine into steam through the heat-recovery boiler and sends it to the steam turbine for power generation. The gas-turbine combined-cycle generator unit offers the following advantages:
a. efficiency in high power generation. Using Brown and Rankine cycles, the gas turbine features advanced working principles and structure and little heat consumption;
b. good environmental protection. The heat-recovery boiler of the power plant emits no dust, little sulfur dioxide and low levels of nitrogen oxides. The use of natural gas, a world-recognized clean energy for power generation, offers great advantages for environmental protection;
c. a flexible operation mode. The gas turbine power plant can serve as a baseload power plant and a peaking power plant. When the gas turbine uses both oil and natural gas, it can provide peak savings for natural gas;
d. less water consumption. The steam turbine of a gas-steam combined-cycle power plant accounts for only one third of the total capacity, so the water consumption is generally one third of that of coal-fired thermal power plants. In addition, hydrogen in methane and oxygen in the air are combusted and reduced to carbon dioxide and water, which is enough to meet the water demand of the power plant itself;
e. less floor space. Since there is no stacking of coal and ashes and the air-cooling system is used, the power plant occupies only 10 percent to 30 percent of the space required by a coal-fired power plant, thus saving a large amount of land resources; and
f. a short construction period. It takes 8 to 10 months to build a gas turbine power generation system, 16 to 20 months to build a combined-cycle power generation system, and 24 to 36 months to build a coal-fired power plant.

Impact
The first phase of the power plant project was highly praised by Ghana's two presidents and became a model project in the African power industry. Relevant government departments from Benin, Nigeria, South Africa, Togo and other countries made on-site visits to learn the good practices of the project. When the second phase was completed, the total installed capacity accounted for more than 20 percent of Ghana's total electricity generation, becoming a model for electricity projects in the country and even the entire West Africa region. In 2019, Ghana's power plant generated more than 2,701 million kilowatt-hours (kWh) of electricity and sold more than 2,622 million kWh, which represented an increase of 33 percent compared with 2018 and generated accumulatively 43.93 million U.S. dollars in tax revenue.
The project directly created 300 jobs. During the first phase of construction, as many as 1,000 workers were employed. After the project became operational, nearly 100 local workers were hired through local human-resource organizations. The power plant spared no effort in training local talent; it has trained hundreds of local technical personnel through such means as teaching-by-doing apprenticeship, regular professional and technical training, and irregular safety drills. Thanks to the rigorous training system and the patience of Chinese teachers, the Ghanaian employees of the power plant have grown into skillful power engineers with excellent capacity. Nowadays, "Staff of Shenzhen Energy" is a golden brand in Ghana's electricity industry. Technical talent trained there is sought after in the marketplace.
Eli, a local employee of the Ghana power plant, believes that Sunon Asogli Power (GH) has brought beneficial changes to the local economy and social life. Among the first group of local employees of Sunon Asogli Power (GH), he witnessed the development of the power plant and experienced the changes that the project brought about in his own life - he advanced from a grass-roots employee to an enterprise manager - and in Ghanaian society.
Michael Opan, former Chairman of the Ghana Energy Commission, once said: "The construction speed of this power plant is unbelievable. To me, Sunon Asogli Power (GH) is like the ace energy company in Ghana's electricity market, which sets an example for other investors. Whenever people talk about investment in the electricity market, I always take Sunon Asogli Power (GH) as an example to illustrate it."
Local tribal chief Asamany said: "Before the power plant came, this area was a tidal flat. No one could have imagined that it could become what it is now."
Now you see Kpone village (near the power plant) has undergone tremendous changes. The roads in the village have been renovated. 450 Ghanaians were employed by the power plant, and many people's lives have changed as a result. The rent in the village has gone up but the housing here is still much sought after. Everyone is proud of having such a modern power plant nearby.
Replicability
The CADFund and CDB financed the construction of phases I and II of the Sunon Asogli Power (GH) Ltd. combined-cycle power plant project through investment and loans. At present, the two phases have been put into operation smoothly and have substantially eased the local power shortage. Compared with traditional coal-fired power plants, the gas-fired power generation technology used by this power plant significantly lowers the carbon emission level. It can be introduced to other African countries where there are ample natural gas resources.
(Source: United Nations Office for South-South Cooperation, China-Africa Development Fund)