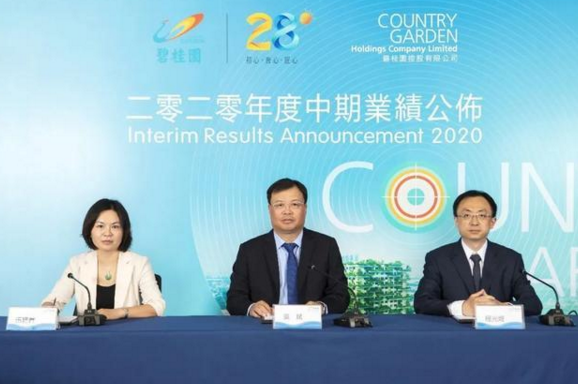 Photo: Country Garden discloses its interim results for 2020 online, Aug. 25.
HONG KONG, Aug. 28 (Xinhua) -- China's leading property developer Country Garden (02007.HK) has recently disclosed online its financial results for the first half of 2020.
The Guangdong-based company said its contracted sales amounted to 266.95 billion yuan (about 38.77 billion U.S. dollars) in the first half, with 31.85 million square meters of contracted floor areas sold.
During the period, Country Garden recorded total revenue of 184.96 billion yuan, gross profit of about 44.89 billion yuan, net profit of 21.93 billion yuan and the core net profit of 14.61 billion yuan, according to its filing to the stock exchange.
Besides, as of the end of June, its total debt stood at 342.04 billion yuan, down 7.5 percent compared to that as at the end of 2019.
China's market for properties and the related industries is still enormous, presenting it with ample opportunities. The continuing urbanization has engendered promising property markets in many places in the country for it to explore and develop, said Country Garden. (Edited by Li Shimeng, Hu Pingchao with Xinhua Silk Road, hupingchao@xinhua.org)