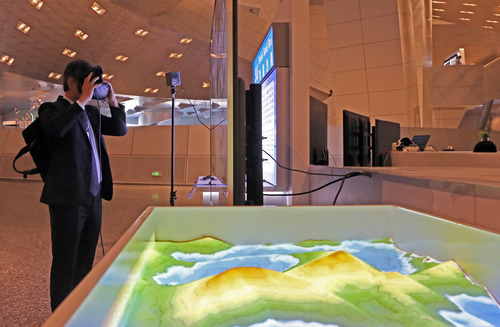 A delegate experiences a 5G mixed reality smart sandbox at an exhibition space of the 2019 Summer Davos in Dalian, northeast China's Liaoning Province, July 1, 2019. (Xinhua/Yang Qing)
BEIJING, Aug. 21 (Xinhua) -- Northeast China's Liaoning Province has streamlined the examination and approval procedures of 5G network construction, to promote the development of new infrastructure projects in the province, reported Liaoning Daily Wednesday.
To be specific, 5G project construction units can be exempted from the complex process such as project establishment and filing, at the same time, construction units could declare the commencement of construction through both online and on-site ways.
As of August 6 this year, the province has built 19,019 5G base stations, of which 16,972 were newly built this year, completing 84.84 percent of the construction plan set at the beginning of the year, according to the local authorities.
Liaoning has achieved coverage of quality 5G independent networking in key places covering main urban areas, counties, key industrial parks, airports, railway stations and ports in its 14 cities.
Among them, 6,261 5G base stations were built in the capital city of Shenyang, and 5,598 stations were set up in Dalian, a major coastal city in Liaoning.
Liaoning pledges to improve the efficiency of examination and approval procedures further and promote the construction of 5G networks by integrating 5G technologies into the fields of industrial internet, Internet of Vehicle, medical treatment, transportation, cultural tourism and social governance.
(Edited by Jiang Feifan with Xinhua Silk Road, 346129473@qq.com)