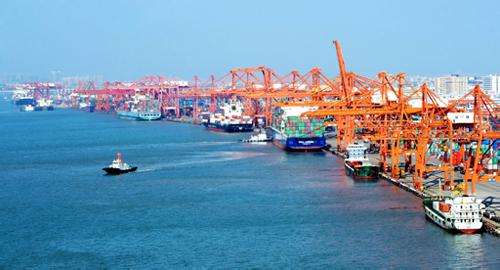 BEIJING, Aug. 11 (Xinhua) -- North China's Tianjin Municipality is expected to see the scale of marine equipment industry reach 60 billion yuan by 2024, as compared with the 20-billion-yuan scale registered in 2019, reported Tianjin Daily on Monday.
Tianjin will list offshore oil and gas equipment, high-tech ships, port and waterway engineering equipment, seawater desalination equipment, and marine energy development and utilization equipment as the high-end products to be developed in the following five years.
Tianjin boasts the first-mover advantage to develop the marine equipment industry. In the field of offshore oil and gas equipment, an complete industrial chain from exploration and development to oil refining and ethylene chemical industry has already taken shape, with general contracting, core equipment manufacturing and service ranking among the top in the country.
Viewing from the industrial development trend, the 14th Five-Year Plan (2021-2025) period offers strategic opportunities for China to develop marine economy and accelerate the construction of maritime power. Tianjin's marine equipment industry is bound to have huge potential for development.
An official with the Tianjin Industrial and Information Technology Bureau noted that focusing on organizational management, policy, investment promotion, international cooperation and talent training, Tianjin will strive to improve the policy support system, further promote mechanism innovation in the field of marine equipment, support domestic and overseas enterprises to settle in Tianjin and seek common development.
By 2024, Tianjin's marine equipment industry will cultivate two enterprises each with annual income of more than 10 billion yuan, three enterprises each with annual income of more than 5 billion yuan, and 10 enterprises each with annual income of over 1 billion yuan. (Edited by Zhang Yuan with Xinhua Silk Road, zhangyuan11@xinhua.org)