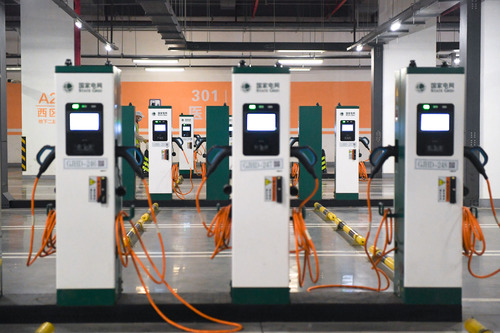 Photo taken on May 16, 2020 shows charging points at a newly-opened electric vehicle charging station in the underground parking lot of the Wukesong sports center in Beijing, capital of China.(Xinhua/Ju Huanzong)
BEIJING, July 31 (Xinhua) -- Northwest China's Xinjiang Uygur Autonomous Region recently saw its first Internet of Vehicles (IOV) platform start construction, which is expected to put into operation by the end of the year, reported Xinjiang Daily Thursday.
The platform is invested more than 4 million yuan by the State Grid Xinjiang Power Co., Ltd. for construction, operation and maintenance.
According to the State Grid, the platform will develop functions such as cross-operator payment, energy-saving, emission reduction, consultation and release, and operator regulatory analysis to meet the needs of the development of the new energy vehicle (NEV) industry.
At present, Xinjiang is stepping up efforts in the construction of the EV charging piles, and adopting emerging technologies to integrate the infrastructure of charging piles into intelligent transportation as well as smart city development.
As one of the measures to speed up new infrastructure development in Xinjiang, the platform will offer data and information services for the whole industry chain, and it can also connect to other multiple types of charging piles.
It is noted that since the first charging pile put into operation in 2010, there are more than 1,600 charging stations and personal charging piles in service in Xinjiang.
(Edited by Jiang Feifan with Xinhua Silk Road, 346129473@qq.com)