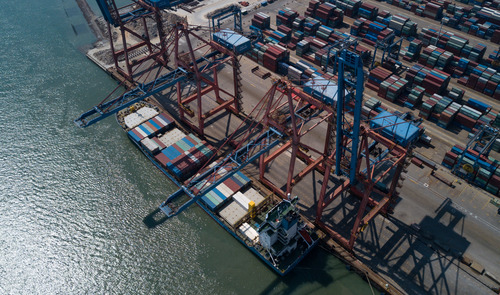 Aerial photo taken on July 15, 2020 shows a freighter loading cargo to be exported at a container port in Quanzhou, southeast China's Fujian Province. (Xinhua/Song Weiwei)
BEIJING, July 30 (Xinhua) -- China has witnessed booming domestic demand as the country made major progresses in COVID-19 epidemic prevention and control, which created opportunities for local sales of export products, said Li Xingqian, director of the Department of Foreign Trade of the Ministry of Commerce (MOC).
With implementation of supportive policies, local governments in China like Jiangsu, Guangdong and Zhejiang have carried output multiple measures to help foreign trade companies to explore domesic market for export goods.
It is noted that many foreign trade companies listed in the Chinese A-share market, mainly in consumer, communications equipment manufacturing, and electrical machinery manufacturing sectors, have ramped up efforts to enhance their domestic market expansion.
--Support from central and local governments
On June 22, the State Council issued opinions on supporting the transfer of export products to domestic sales, aiming to encourage foreign trade companies to expand the international market, which specified ten supporting measures for local sales of export products.
The State Council's measures marked all-around policy arrangements for domestic sales of export products, said Bai Ming, deputy director of the International Market Research Institute of the MOC.
Following the announcement, a series of relevant activities kicked off recently in Chinese cities of Hangzhou, Chongqing, and Xi'an, aiming to establish channels and platforms for domestic sales of export goods and accurately meet the needs of local consumption upgrading.
The rapid development of e-commerce, emerging of online wholesale, application of big data technology and live stream have greatly expedited the transfer of foreign trade companies to move faster and smoother in domestic market exploration, according to Chen Lifen, researcher of the Circulation Industry Promotion Center of the MOC.
Meanwhile, Chinese provinces with large foreign trade such as Guangdong, Zhejiang, and Jiangsu promptly followed up with a series of supportive measures, such as organizing exhibitions of export products and developing online sales channels.
Specifically, the taxation authorities in Guangdong opened green channels for the export tax rebate. The taxation authorities in Shenzhen provided support with platforms of industry chains, and local governments in Zhejiang signed strategic cooperation agreements with PDD, China's e-commerce giant, to provide e-commerce platform for local foreign trade companies to sell their products.
-- Active expansion of domestic market by listed companies
Some Chinese listed companies have shifted their focus to the expansion of the domestic market.
Jiaxin Silk, a listed company majoring in silk production in Zhejiang Province, attended online Canton Fair via live streaming and widely used new media platforms to increase its sales and visibility in the domestic market.
Because of the rapid development of elastic flooring in public space and home furnishing market, a leading manufacturer of Vinyl Floor Tiles in Jiangsu province, namely Eletile would soon increase its productive capacities and map out domestic sales plans.
Meanwhile, Luthai Textile, a producer engaging with yarn-dyed fabrics and shirts business in east China's Shandong Province, launched its flagship store at Tmall.com, the e-commerce platform under Alibaba Group.
It is noted that some listed companies have gained initial success in switching to domestic sales.
For example, Shenzhen MTC Co., Ltd, a company that listed on the Shenzhen Stock Exchange SME board, changed the mainboards, leading to a sales growth of 10 percent in the first quarter of 2020, in a bid to meet the criteria for domestic sales,
Statistics from taxation authorities showed that the local sales revenues of Guangdong's foreign trade companies in April surpassed the figure a year ago, and witnessed a year-on-year increase of 3.8 percent in June.
For those products which are readily marketable in the domestic market, it is necessary to tap potentials for the incremental market space, said Bai Ming, deputy director of the International Market Research Institute of the Ministry of Commerce.
Redirecting exports to the domestic market would certainly exacerbate competition in the Chinese market and push some companies to transform their business, said Zhang Jingqiang, the executive president of China Association of Small and Medium Enterprises.
Zhang added that, since the pandemic outbreak, the number of SMEs that undertook digital transformation had grown significantly.
However, some enterprises still encounter many problems in the process of turning to domestic sales, and enterprises still need to strengthen policy support to establish a long-term management mechanism for foreign trade products.
In the second half of this year, the domestic market would remain the focus of foreign trade companies amid the epidemic spread. Bai Ming added that accessing local and international markets may become a long-term trend to improve foreign trade companies' competitiveness.
(Edited by Jiang Feifan with Xinhua Silk Road, 346129473@qq.com)