BEIJING, July 14 (Xinhua) -- The "science and technology town chief team" (sci-tech team) of Xinbei District in east China's Jiangsu Changzhou, has been facilitating Xinbei's industrial upgrading and transformation through channeling science and education resources to grassroot economic development.
As an appointment and employment innovation scheme initiated by Jiangsu in 2008, the sci-tech team, consisting of team members from provincial government, institutions as well as colleges and universities, was appointed to push forward local development through bonding industry-university-research activities and bridging local key enterprises with R&D institutions
The 12th sci-tech team for Xinbei District, for example, has visited and researched into 550 enterprises, held 26 industry-university-research matching and promotion activities, brought in 58 high-end talents for Changzhou National Hi-Tech District, and facilitated 1.26-billion-yuan worth investment and finance, industry-university-research and talent cooperation deals among institutions and key enterprises since 2019.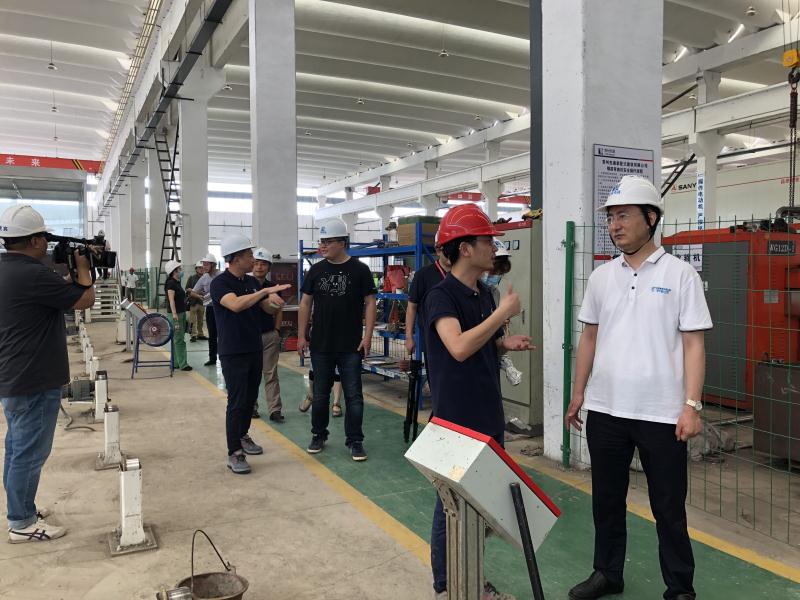 Sci-tech town chief team visits JTON Precast Co. Ltd in Changzhou National Hi-Tech District, Jiangsu province
With members coming from Jiangsu provincial government office, Housing and Urban-Rural Development Department, provincial productivity promotion center, Shanghai University, Nanjing University of Aeronautics and Astronautics and Nanjing University of Chinese Medicine, the 12th sci-tech team functions as the link between industrial practice with academic expertise with the latter providing technological support, training and guidance to address actual problems during Xinbei's advantageous industry development, according to Meng Liang, team head and the deputy head of Xinbei District.
The team helped push the transfer and conversion of scientific research achievements in colleges and universities to industrial parks and enterprises thus integrated both sides' advantages, according to Meng.
Specifically, the sci-tech team helped push forward 43 investment and finance, industry-university-research and talent cooperation projects since 2019, bridging Shanghai Stock Exchange, Jiangsu Tech Industry Investment Corp., Jiangsu Govtor Group, Jiangsu Industrial Technology Research Institute, Nanjing University of Chinese Medicine and Shanghai University with key enterprises, with cooperation agreements worth approximately 1.26 billion yuan in total.
With knowledge and expertise, the team has assisted the application of 70 provincial-level and above projects, gaining more than 47 million yuan of funding. It also helped with the application of 2,114 patents among which 1,253 were approved. It undertook establishment of eight technology incubators and R&D platforms as well as one postdoctoral workstation. The team also gave support to the listing of Trina Solar, a leading PV module and smart energy solution provider, on China's Nasdaq-style sci-tech innovation board, or the STAR market. (Edited by Niu Huizhe with Xinhua Silk Road, niuhuizhe@xinhua.org)